Wrens 2021-22
Mrs Wizard, Miss Jenkins and Mrs Musson
Friday 24th June
This week we have been learning about sharing equally in mathematics and what we can do if we have an amount we can't share. We shared objects to 2 groups and 3 groups.
In PE we learnt about how to bowl in cricket we got our bunny ears ready to hold the cricket ball and tried to aim the ball at a cone. We tried swinging our arms over as we bowled. We watched some videos of professional cricketers bowling to see how it was done. We also had an amazing tennis lesson learning how to control a ball and use a racket.
The snails are doing well and are eating through lots of carrots. Some times they hide but I think they are use to us now as they move about quite a lot.
In writing we imagined that we ate lots and lots of food and built our own cocoon. We imagined what animal we would come out as.
Friday 16th June
This week has got hotter and hotter! The summer is here!
We spent some time talking about the seasons and that it is now summer. We talked and then wrote about the things we like to do in the summer - go in my paddling pool, have an ice cream and go to the beach. We drew pictures of our favourite summer activity.
We have been learning a well known story in talk 4 writing - The very hungry caterpillar. We have learnt actions to the story to help us remember the order. We investigated the lifecycle of a butterfly as part of the story.
In mathematics we have been learning about number patterns with doubling. We have been finding doubles on dice and on dominos. We have been learning to say double 2 is 4, double 6 is 12.
3 snails have come to stay with us for a little while in the classroom. We can see them eating carrots and can see their nibble marks in the carrots. They hide from us during the day and suddenly swop places when we are not looking.
Friday 27th May
The last week of term has been busy.
We have potted up our seedlings from their trays into large pots. Hopefully we will see a big change in them after half term. We carefully used a lolly stick to pull out the seedling and examined the roots that had grown.
In preparation for The Queens Jubilee we have been learning the national anthem. We have also painted Union Jack flags, We have learnt lots of information about The Queen - how old she is, how long she has been Queen and how many Corgi's she has had. It has been very interesting finding out about the royal family.
In mathematics we have been investigating some take away stories. We have used ten frames and counters to find how many are left when we take some away.
We have been using Digimaps to investigate different places that the children are going on holiday in half term. We investigated how long the journey would take and what transport they would use.
Happy half term Wrens
Friday 20th May
At last we have been having some sunny weather! We took the opportunity to pot up the seeds that we planted in the classroom. We have successfully grown marigold, sweet william and geranium seedlings. We carefully potted them into larger pots and will continue to watch them grow.
The ladybirds popped out of their pupa. We counted 6 ladybirds. We looked at the food that ladybirds like to eat - little green aphids. We didn't have any in the classroom so we released the ladybirds into the school flowerbeds. We will keep an eye out for them when we go outside.
We finished the story I want a pet and all guessed what was going to be in the big purple egg the little girl took home - a rabbit? a dragon? a penguin? Nobody really knows! We wrote about the animal we thought would be in the egg.
In mathematics we started completing simple addition story first, then now. First there were 3 animals in the boat then 2 more got in so now there are 5. We showed this on a ten frame with double sided counters.
Friday 13th May
We started off the week with a fantastic animal adventure that visited us in school. We looked at and held guinea pigs, giant millipedes and snails, lizards, snakes, stick insects and a hedgehog.
It was an amazing morning we found out about where the animals live in the wild, what they eat and whether they were nocturnal. We had a look at a snake skin that the snake had grown out of. We learnt so many amazing facts that we have been able to remember this week in class.
In mathematics we have been learning about the numbers to 20 that 11 is ten and one more, 12 is 10 and two more. We investigated how this looked on 2 ten frames. A full ten frame for 10 and another ten frame with only some counters on.
In PE we watched a video of people throwing a javelin and discus. We then started some early skills to develop throwing skills for a discus and javelin. It was amazing to see how far athletes could throw a javelin.
The ladybird Larva in the classroom have turned into pupa! We know that they are working hard inside the pupa to turn into a ladybird in the next week. We can't wait!
Friday 6th May
The first week of May! We have been learning a new story 'I want a pet'. We have been learning the story with actions and have enjoyed howling like a wolf, wandering around like a sheep and being squeezed by a snake! All of these pets turned out to be not a good idea. We are yet to find out what is inside the big purple egg the pet shop lady gave at the end!
In maths we have continued to learn about numbers 11 to 20. We have practised writing the numbers and ordering them. We have enjoyed singing songs counting forwards and backwards to 20 and have also met the new Numberblocks that represent these numbers.
In the zoo we have started allocating jobs - this week we had some zoo keepers, a ticket lady and some vets checking on the animals.
Some animals got lost in the woods so we spent some time searching for them. They were lost in trees under bushes and behind logs. Sadly 2 animals are still missing and we hope to find them soon!
We planted some seeds and hope they will start growing soon. We looked carefully at the different types of seeds we planted.
Friday 29th April
This week in the Wrens we have continued to learn about Noah's Ark and have used pictures to retell the story and to write some short sentences about the story.
The animal theme has continued as we have been looking at some photos of our own pets and talking about what animals need to stay alive. We have looked after the animals in the vets and also in our zoo. We made tickets and zoo maps. We have also started to do guided tours around the different animal pens.
We have been thinking a lot about the changes in spring and summer and spent some time trying to pencil draw some of the flowers in the flower beds. We have also been watching cress grow in the classroom and have been drawing all the stages of the sprouting cress.
In mathematics we have started to work with numbers above 10. Understanding that 11 is 10 and 1 more, 12 is 10 and 2 more. We used counters on the ten frame.
Summer term 1 Friday 22nd April
Welcome back to the summer term.
We found lots of new interesting animals in the classroom. We decided to sort them into pets and wild animals. The wild animals we put outside and them split them into dangerous animals and not dangerous as decided by the children. We then made a zoo and pens for the animals to live in. Tigers altogether, lions altogether elephants and zebra altogether. We have started making zoo tickets and listing things that the animals need to live.
Inside we made a vets and have been looking after sick pets - checking their ears and eyes and giving them medicine.
In maths we have been reminding ourselves about ten frames and what different amounts look like on ten frames.
We explored outside looking for signs of summer. We spent some time drawing things that we found.
Friday 1st April
It's April and the end of term!
This week we have been investigating patterns red, yellow, red, yellow or red red yellow red red yellow or red yellow blue red yellow blue!
We made our own patterns and spotted when patterns had gone wrong.
We enjoyed PE on the field and used lots of equipment that we have been using since we started in Wrens.
We have learnt about Easter symbols. Crosses, eggs, palms and hot cross buns. We went to the church with the rest of the school and showed some of the Easter crafts we have made.
Happy Easter
Friday 17th March
Another busy week!
In Talk 4 writing we have started a new story called Little Rabbit Foo Foo - a very cheeky rabbit who keeps doing the wrong thing whilst riding around the forest. We have quickly learnt the story and have been discussing how Little Rabbit Foo Foo keeps choosing to do the wrong thing when he has clear consequences for his behaviour!
In mathematics we have been working with numbers 9 and 10. We have been using ten frames to investigate how many counters and how many spaces on the ten frame. We have really enjoyed watching Numberblocks Ten Again to find all the different ways to make number 10.
We had a terrible down pour this week so decided to make a big crafting table for the children to investigate different resources to make their own paper craft creations. There was lots of glue, cutting, paper stamps and lots to clear up at the end.
In PE we have been dancing like dinosaurs. We have been stomping, wooshing, plodding and striding. We mixed the movements together to make dances with a partner.
We also enjoyed venturing out into the wood and the field to investigate signs of new spring life.
Friday 10th March
We have had a very very busy week!
To begin with we were very lucky to have a visit from Mrs Mason who shared with us her very exciting job. Mrs Mason helps people who have hearing difficulties. She explained to us how our ears work with a picture of the inside of an ear. She also explained how hearing tests work and showed us some photos of where she works. We looked at some hearing aids and the very special torch she uses to look inside peoples ears. We thought of questions to ask her like; 'How do you get wax?' 'What is wax for?' 'What happens if you can not hear?' She was great at answering all our questions. Thank you Mrs Mason.
We also had a visit from some local police officers who explained to us about their jobs. They explained that Police officers are not just there to arrest 'bad guys' but mostly to help people if they are lost, worried or need help. We found out that the funniest thing they had to do was to help herd sheep back into a field! They let us try on some of their uniforms including hats, high visibility jackets and even handcuffs! They showed us their police car and even turned on the sirens!
As the weather has been so nice this week many of the wrens have chosen to spend more time outside in their learning.
Friday 4th March
We have continued to learn more about the snail and the whale story. We drew story maps to help us remember the story sequence and wrote a simple sentence about the snail with an itchy foot. We have also started making a display of all the snails on the rock as black as soot whilst learning about the artist Yayoi Kusama.
In mathematics we have been learning about the numbers 9 and 10 and what those amounts look like on a ten frame. We have also been sorting simple representations of 9 and 10.
In PE we have been dancing. We listened to a song about the 4 seasons and thought of actions to do for each season. We built this into a short dance and performed it to each other.
We had an amazing World Book day! So many characters came into the classroom with so many wonderful books. We enjoyed sharing stories with each other and also visited other classrooms to listen to teachers read us stories.
Friday 25th February
A super welcome back to all the Wrens to Spring 2 half term. This term the learning is around super heroes, super people and people who help us.
This week we got straight back into learning starting off with the Snail and the Whale. It is a long story so we are working hard to learn it. We have talked about the characters. The Snail who feels so small but is so brave and the whale who is so kind to take the snail around the world. The snail is a super hero in the story.
In the role play home corner we have introduced some first aid kits for the children to explore. Some children have had some terrible accidents and have been bandages head to foot! We have investigated parts of our body to think about how a doctor may help us if we are ill. We looked at each others eyes and looked at pictures of the inside of an eyeball.
In mathematics we have been exploring 6, 7 and 8 more. We combined two groups to find the total and explored pairs. We decided that pairs must be two things that are the same.
Friday 11th February
Over the past few weeks the Wrens have been making airplanes out of empty bottles and cardboard. They have got very sticky as they decorated their airplanes. They thought about how they would attach wings and a tail.
In talk for writing we have learnt the story Away in may airplane! We have used this story to explore the noise airplanes make - zoom, roar, wee! We also thought about all the weather airplanes fly through: rain, sunshine and clouds.
In mathematics we have been exploring the numbers 6, 7 and 8 on a ten frame, and comparing how many counters are needed for each number.
In PE we had a challenge to see how many circuits of the running track we could do in 20 minutes. All the wrens managed at least 5 times round! There was a lot of water drinking afterwards!
Happy half term to you Wrens see you next term!
Friday 4th February
And just like that it is February!
We have continued to learn the story Whatever Next. We have acted out the story with actions and written simple sentences about the story.
In mathematics we have been learning about numbers 6 and 7. We looked at the numberblocks for 6 and 7. We found we couldn't fit 6 and 7 on a five frame so used a TEN FRAME! We investigated how counters looked on a ten frame for 6 and 7 and used double sided counters to find different ways to make 6 and 7.
We looked at some amazing videos of the space shuttle taking off and landing. We also found out about how people live on the space station. We could see there was no gravity and everything floated about.
This week The Wrens have started to learn a new story Whatever Next! In the story baby bear flies to the moon in a cardboard box to have a picnic. We have learnt the story and have begun to write some simple sentences about the story.
In mathematics we have been learning about balance and measure. We used balance scales to compare weight and scoops to compare capacity of cups.
We have learnt a simple dance in PE to show how a flower would grow from a seed.
We looked at some videos of early airplanes and flying machines that made us laugh a lot!
Friday 21st January
We have continued to learn with the story We're going on a bear hunt and have been writing some simple sentences using our phonics. For example It is a bear hunt and Look it is thick black mud. We have also started to build a display using paint to show the different place you have to go through on the bear hunt.
Outside the Wrens have been exploring block play by using the blocks to make different forms of transport - a car, a scoter and a rocket were seen in the outdoor area!
In mathematics we have continued to learn in the phase alive in 5. We have been partitioning 5 into 3 groups and pretending to put people on and off a bus to see how many we have all together.
In PE we started to learn some simple movements to the count of 8 as we grew into a flower.
A very busy week!
Friday 14th January
Week 2 of the term complete!
We have continued to learn with We're going on a bear hunt. We have been thinking about the bear and how the bear would feel when he was woken up in his cave. Some though he would be angry and sad. Some thought he would be happy and just wanted to play with the children.
In mathematics we have been learning about the composition of 5 and the numbers that make five. These are number bonds to 5. We have also learnt about the number zero - this number is before 1! When you have nothing to count it is zero!
In PE we used the hall. Our first indoor hall PE lesson. We learnt how to safely get out mats and how to put them on the floor as a team. We then began to balance on different parts of our bodies.
Friday 7th January 2022
Welcome back Wrens to a very cold January 2022.
We did not hang about this week and got straight into learning. Our new talk for writing book is We're going on a Bear Hunt. The children have enthusiastically joined in with this well loved story doing actions and expressions. We will be using this story for the next few weeks for language development, story flow and acting skills.
In Mathematics we have be recapping numbers to five before we move onto higher numbers. We used dot plates to compare amount, most/least greater and fewer. We have also been subitising and looking for patterns in dot arrangements. We could see a 4 dot arrangement was four but also four dots or two dots and two dots or three dots and one dot.
A big focus as always is pencil hold and lots of children had to be reminded of their two fingers holding and a pillow finger under. They enjoyed getting back into remembering the rules for each letter.
Even though it is cold we have ventured outside daily to enjoy the crisp weather.
Friday 17th December
We have made it to the end of term! Many of the Wrens are now very tired and very much looking forward to their break.
We spent most of the last week practicing our nativity play which was amazing. Thank you to all the parents who came and watched. We really enjoyed ourselves at the Wriggly Nativity!
On Thursday we had a lovely Christmas dinner. Before we had our dinner we all made crowns to wear whilst we ate.
The rest of the week we have been consolidating phonics sounds learnt so far.
Wishing you all a very Happy Christmas and looking forward to seeing you in the New Year!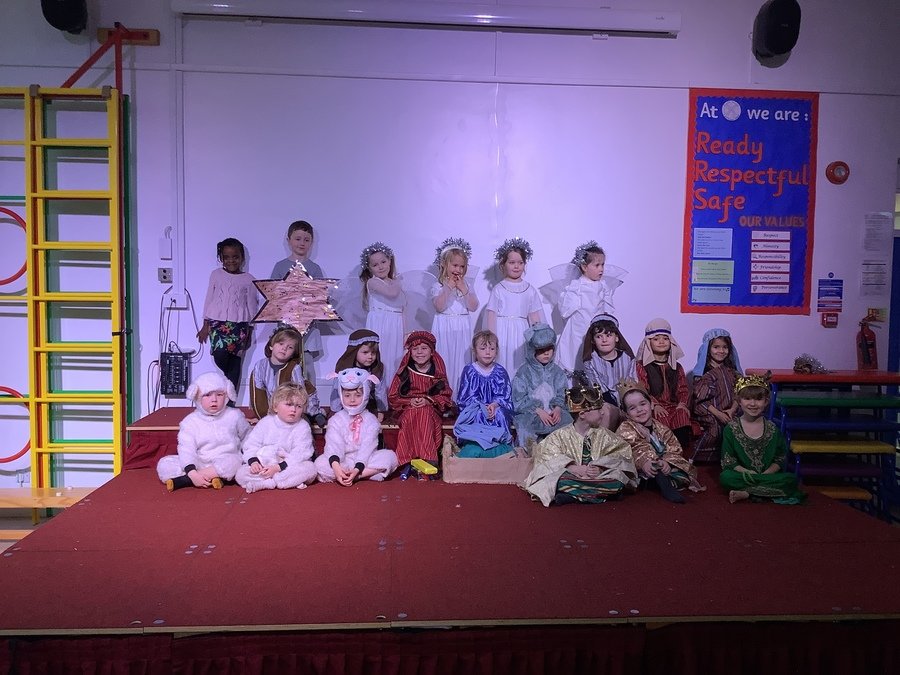 Friday 10th December
This week we have been learning about the Story Harvey Slumfenburger's Christmas present. Father Christmas forgets to give the poor boy his present. Father Christmas takes an epic journey to where Harvey lives to deliver his present in time for Christmas day,
In maths we have been learning about shapes. Specifically rectangles and squares - which are special rectangles. We went around the school on a shape hunt!
As the weather was so bad we did some yoga in the classroom.
Friday 26th November
This week in Wrens we have met number 4 and 5 with The Numberblocks. We have been exploring what 4 and 5 look like on a five frame. We have also been sorting images of 4 and 5.
In talk 4 writing we have learnt the 3 little pigs story and explored what the 'baddie' could be if it weren't the wolf. Some ideas were the wolf could be a dragon, a tiger or a lion.
In PE we have been dribbling a basket ball. Skills have progressed so well this term from initially bouncing and handling a ball.
Outside there has been a lot of obstacle course building where lots of the children have joined in and helped build new routes and paths.
Friday 19th November
In Wrens this week we have continued our learning with traditional tales. We started a new book - The Three Little Pigs. We have been acting out the story and doing some scary voices for the BIG BAD WOLF and pretending to be the pigs rubbing our chinny chin chins!
In Mathematics we have been learning about circles and triangles. Circles have one curved edge and triangles have 3 straight sides and 3 corners. We have been on shape hunts looking for shapes in the classroom.
In PE we have continued to learn skills with a basket ball. We have started to dribble the basket ball.
The week was finished off with a trip to the library and Children in Need.
Our star of the week was Sophie well done!
Friday 12th November
Another busy week in Wrens. This week, as well as our phonics practice, we have secured work around Goldilocks and the Three Bears, learning the story, acting it out and then changing Goldilocks into Spikey! In Maths we have been exploring different ways of showing 3. In Art this week we used Numicon to make the three bears. In Kinetic letters we have been practising the fisher family (y,g,j,f). We have also begun to practise our Nativity play.
Today we were able to borrow a book from the school library. Please could these be brought back next Friday when the children can swap them for another book.
On Thursday we had some special visitors into the school to conduct a Remembrance Service and Miss Jenkins and I couldn't have been prouder of the children who sat beautifully and showed a lot of respect to our visitors.
To top it all off this week we also had our first star of the week in Evelyn. Well done Evelyn.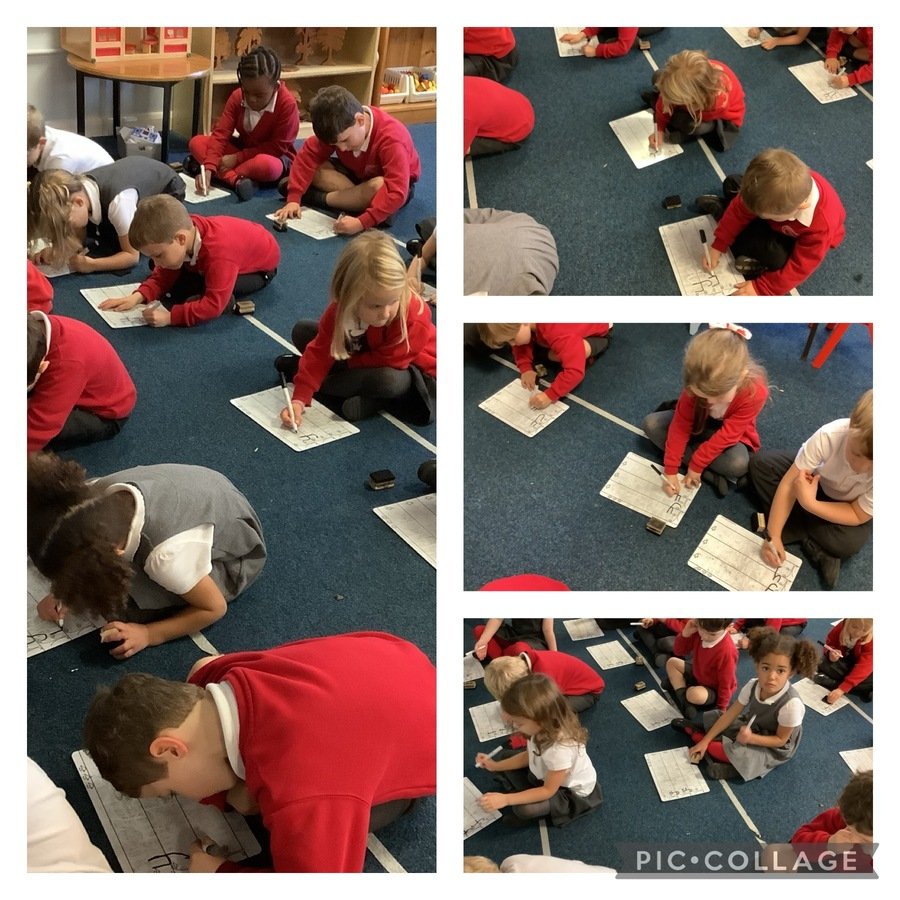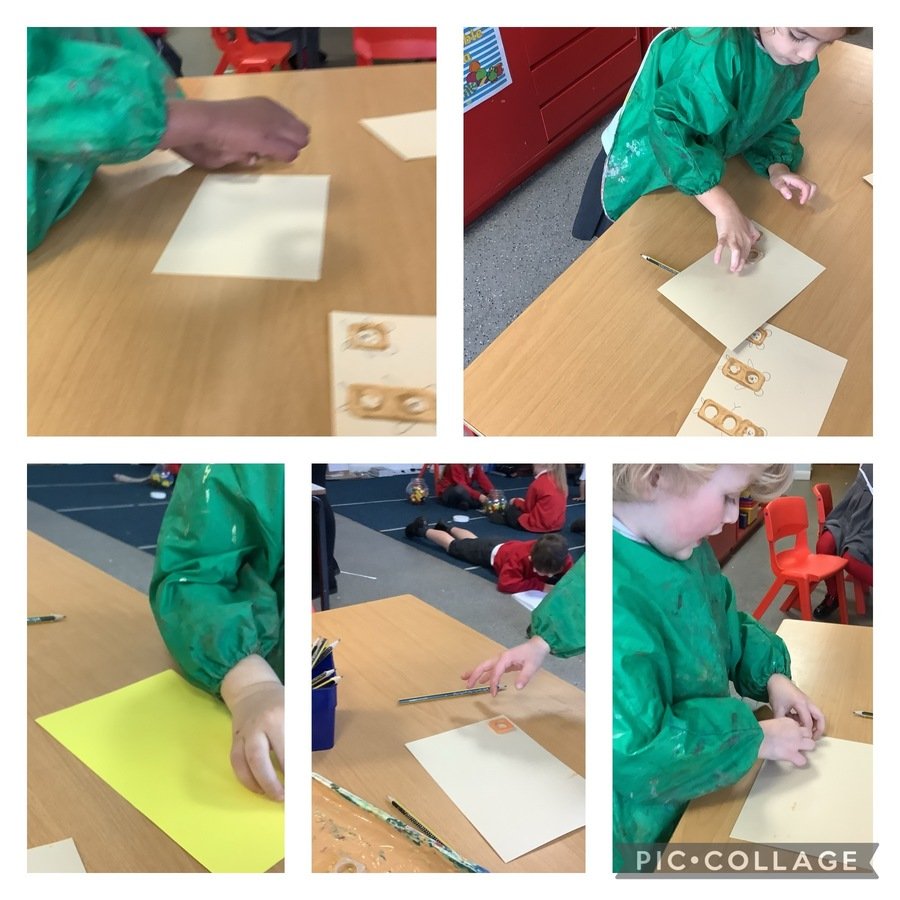 Friday 5th November
The Wrens came back into school refreshed and ready to learn this week!
We have started to learn a new story - one that the children know already Goldilocks and the Three Bears. We have been practising the story and making actions to help us learn it.
In mathematics we have been subitising to 3 and thinking about one more and one less to three. We continue to use a five frame to check our counting.
In PE we have started to learn about dodging skills ready for invasion games later in the term.
During the week we went into the hall to practise sitting in the hall for whole school assembly and today we went into celebration assembly for the first time. Now we know all about Star of the Week and will start to celebrate our STARS! next week.
Happy fireworks!
Friday 22nd October
We made it to half term! Well done Wrens!
This week we secured our learning with The tiger who came to tea. We thought about what we would like to eat if we were the tiger who came to tea. We also investigated where real tigers lived. We found they live in both cold and warm countries and that they eat meat and their stripes camouflage them in the long grass.
In maths we started to explore a 5 frame and investigated putting counters on the frame to see how many counters and how many spaces.
In PE we had a challenge to see how many laps we could run around the track. We have saved the information and will see if we get stronger and can run more laps as this school year progresses.
Have a great half term!
Friday 15th October
We are learning a new story in talk 4 writing. The story is one that many will already know - The tiger who came to tea! We have enjoyed learning new actions and drawing story maps to help us remember the story. We will continue to learn with this story next week.
In mathematics we have been learning about patterns, We have been creating ABABAB patterns with either objects or colours. We have also been trying to spot fix patterns when they have a error in them.
In PE we have used different obstacles to practice hopping, running, tip toe and jumping. Building whole body strength.
We have been practising our '3 friend hold' to make sure we hold our pencils correctly. Two fingers hold and put pillow finger under. Tuck the other two fingers right away! We have started to learn the abracadabra letters with help of the brave and scared monkeys.
In art we continued to experiment with patterns by painting tiger stripes ready for our next classroom display.
Friday 1st October
We have had a wonderful but slightly more autumnal week. It appears to have rained everyday at 3.30 on the dot!
The children are still learning The Disgusting Sandwich and are now able to retell most of the story with words and actions. We had a think about how the badger was feeling during the story - happy, sad, angry and of course very very hungry! We have used The Disgusting Sandwich to help us with our art this week.
In maths we have been sorting objects and thinking up rules for sorting.
Getting changed for PE is still taking some time, but they are becoming more independent and looking after their own belongings.
Pencil hold is the most important thing we have been working on as a good grip means we can get a head start with forming letters correctly. Remembering three friends and a pillow finger.
Friday 24th September
We have had such a busy week getting to grips with our first routines and starting to learn phonics.
The children have also began to learn the story of The Disgusting Sandwich. We started by drawing our favourite part of the story and then started to learn actions to help us to tell the story.
In Maths we have been looking at Just Like Me, spotting similarities and differences and finding matching pairs.
We have spent a lot of time learning some new songs about days of the week, months of the year and our seasons as well as Nursery Rhymes.
In kinetic letters we have been looking at the different positions such as strong bear to sit in, proud penguin to stand up in as well as the first few moves that we will use to form letters. We have also been working on pencil grip using our three friends to hold a pencil.
The Wrens have enjoyed PE, and are practising getting changed independently as well as following instructions to keep ourselves safe. We have played a few different games in teams using bean bags and hoops.
Friday 10th September - Welcome Wrens
What a wonderful week we have had!
All the new Wrens have settled so well into their new morning routines. They have enjoyed exploring the outdoor and indoor areas and resources.
The weather was so kind to us which meant we spent a lot of time outdoors exploring all of the school site. The Wrens loved the woods and many of them tried their best to complete the whole of the trim trail!
We are very much looking forward to next week where there will be so many new 'firsts' for the Wrens including PE, Kinetic letters and maybe joining the rest of the school at play times!
Get a good rest. Lots of new learning next week!
The reception team