Wrens 2021-22
Mrs Wizard, Miss Jenkins and Mrs Musson
Friday 21st January
We have continued to learn with the story We're going on a bear hunt and have been writing some simple sentences using our phonics. For example It is a bear hunt and Look it is thick black mud. We have also started to build a display using paint to show the different place you have to go through on the bear hunt.
Outside the Wrens have been exploring block play by using the blocks to make different forms of transport - a car, a scoter and a rocket were seen in the outdoor area!
In mathematics we have continued to learn in the phase alive in 5. We have been partitioning 5 into 3 groups and pretending to put people on and off a bus to see how many we have all together.
In PE we started to learn some simple movements to the count of 8 as we grew into a flower.
A very busy week!
Friday 14th January
Week 2 of the term complete!
We have continued to learn with We're going on a bear hunt. We have been thinking about the bear and how the bear would feel when he was woken up in his cave. Some though he would be angry and sad. Some thought he would be happy and just wanted to play with the children.
In mathematics we have been learning about the composition of 5 and the numbers that make five. These are number bonds to 5. We have also learnt about the number zero - this number is before 1! When you have nothing to count it is zero!
In PE we used the hall. Our first indoor hall PE lesson. We learnt how to safely get out mats and how to put them on the floor as a team. We then began to balance on different parts of our bodies.
Friday 7th January 2022
Welcome back Wrens to a very cold January 2022.
We did not hang about this week and got straight into learning. Our new talk for writing book is We're going on a Bear Hunt. The children have enthusiastically joined in with this well loved story doing actions and expressions. We will be using this story for the next few weeks for language development, story flow and acting skills.
In Mathematics we have be recapping numbers to five before we move onto higher numbers. We used dot plates to compare amount, most/least greater and fewer. We have also been subitising and looking for patterns in dot arrangements. We could see a 4 dot arrangement was four but also four dots or two dots and two dots or three dots and one dot.
A big focus as always is pencil hold and lots of children had to be reminded of their two fingers holding and a pillow finger under. They enjoyed getting back into remembering the rules for each letter.
Even though it is cold we have ventured outside daily to enjoy the crisp weather.
Friday 17th December
We have made it to the end of term! Many of the Wrens are now very tired and very much looking forward to their break.
We spent most of the last week practicing our nativity play which was amazing. Thank you to all the parents who came and watched. We really enjoyed ourselves at the Wriggly Nativity!
On Thursday we had a lovely Christmas dinner. Before we had our dinner we all made crowns to wear whilst we ate.
The rest of the week we have been consolidating phonics sounds learnt so far.
Wishing you all a very Happy Christmas and looking forward to seeing you in the New Year!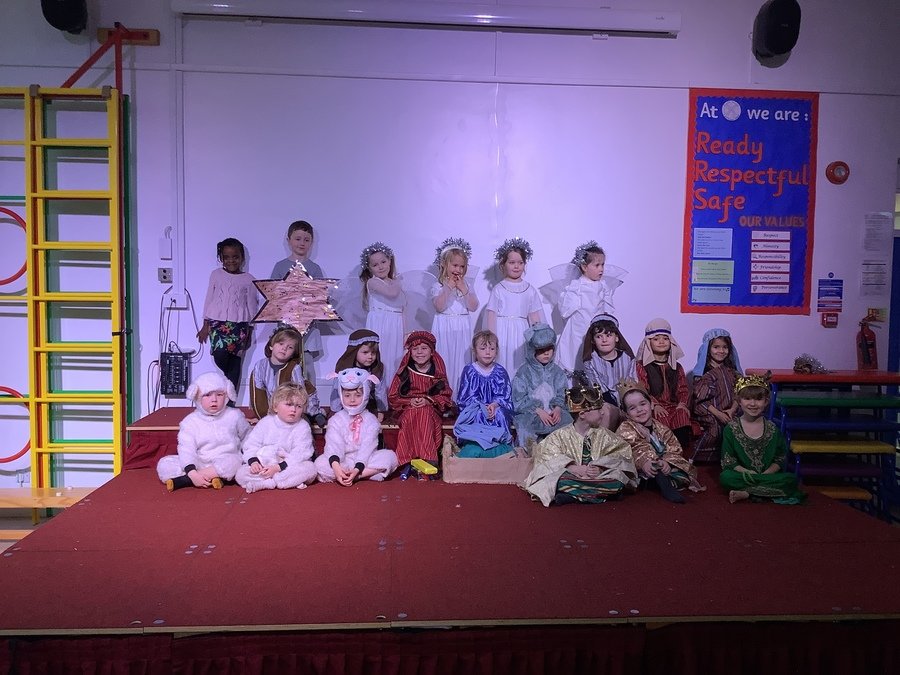 Friday 10th December
This week we have been learning about the Story Harvey Slumfenburger's Christmas present. Father Christmas forgets to give the poor boy his present. Father Christmas takes an epic journey to where Harvey lives to deliver his present in time for Christmas day,
In maths we have been learning about shapes. Specifically rectangles and squares - which are special rectangles. We went around the school on a shape hunt!
As the weather was so bad we did some yoga in the classroom.
Friday 26th November
This week in Wrens we have met number 4 and 5 with The Numberblocks. We have been exploring what 4 and 5 look like on a five frame. We have also been sorting images of 4 and 5.
In talk 4 writing we have learnt the 3 little pigs story and explored what the 'baddie' could be if it weren't the wolf. Some ideas were the wolf could be a dragon, a tiger or a lion.
In PE we have been dribbling a basket ball. Skills have progressed so well this term from initially bouncing and handling a ball.
Outside there has been a lot of obstacle course building where lots of the children have joined in and helped build new routes and paths.
Friday 19th November
In Wrens this week we have continued our learning with traditional tales. We started a new book - The Three Little Pigs. We have been acting out the story and doing some scary voices for the BIG BAD WOLF and pretending to be the pigs rubbing our chinny chin chins!
In Mathematics we have been learning about circles and triangles. Circles have one curved edge and triangles have 3 straight sides and 3 corners. We have been on shape hunts looking for shapes in the classroom.
In PE we have continued to learn skills with a basket ball. We have started to dribble the basket ball.
The week was finished off with a trip to the library and Children in Need.
Our star of the week was Sophie well done!
Friday 12th November
Another busy week in Wrens. This week, as well as our phonics practice, we have secured work around Goldilocks and the Three Bears, learning the story, acting it out and then changing Goldilocks into Spikey! In Maths we have been exploring different ways of showing 3. In Art this week we used Numicon to make the three bears. In Kinetic letters we have been practising the fisher family (y,g,j,f). We have also begun to practise our Nativity play.
Today we were able to borrow a book from the school library. Please could these be brought back next Friday when the children can swap them for another book.
On Thursday we had some special visitors into the school to conduct a Remembrance Service and Miss Jenkins and I couldn't have been prouder of the children who sat beautifully and showed a lot of respect to our visitors.
To top it all off this week we also had our first star of the week in Evelyn. Well done Evelyn.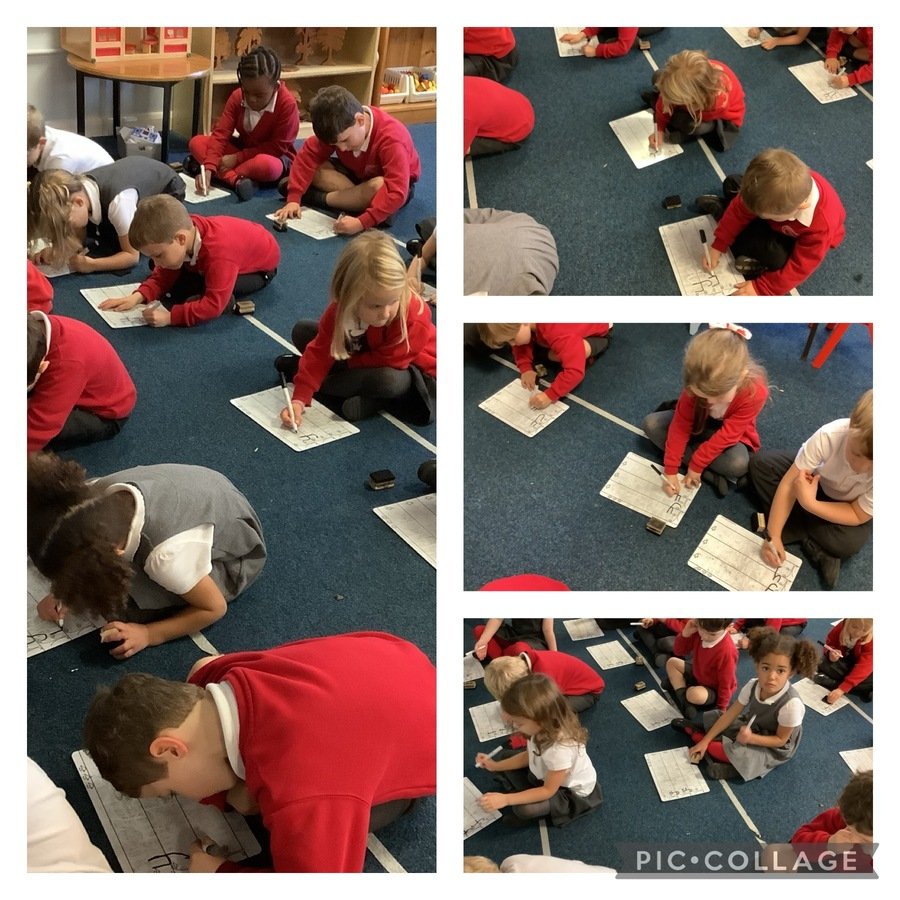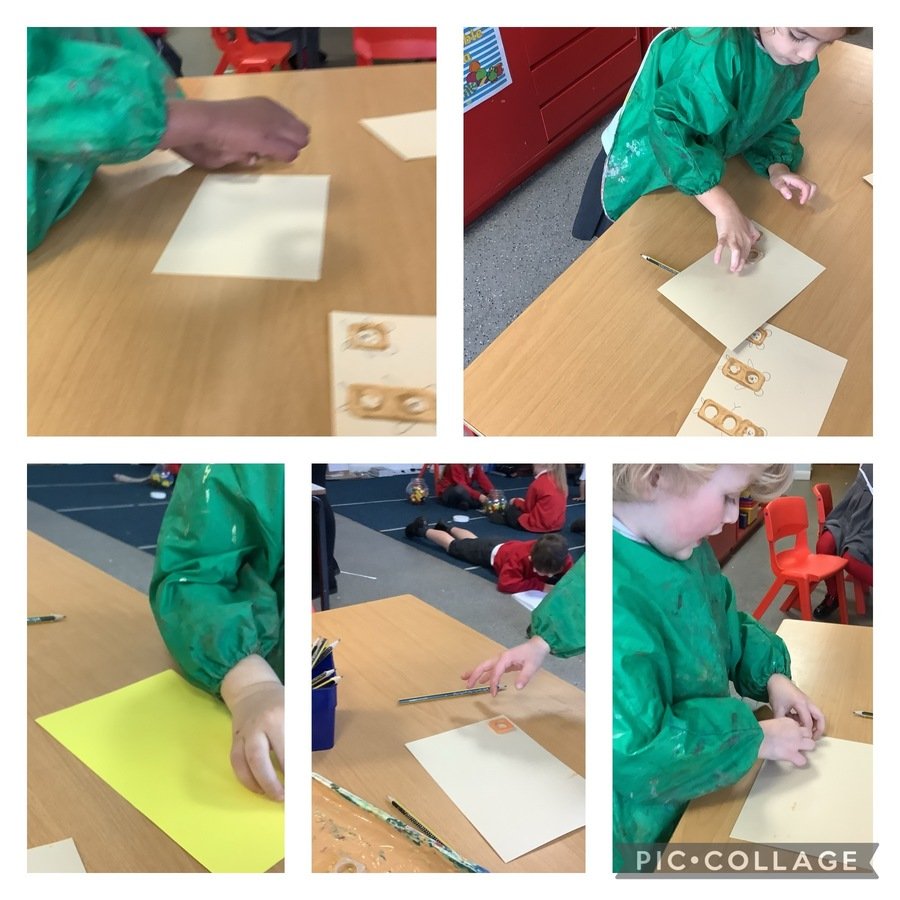 Friday 5th November
The Wrens came back into school refreshed and ready to learn this week!
We have started to learn a new story - one that the children know already Goldilocks and the Three Bears. We have been practising the story and making actions to help us learn it.
In mathematics we have been subitising to 3 and thinking about one more and one less to three. We continue to use a five frame to check our counting.
In PE we have started to learn about dodging skills ready for invasion games later in the term.
During the week we went into the hall to practise sitting in the hall for whole school assembly and today we went into celebration assembly for the first time. Now we know all about Star of the Week and will start to celebrate our STARS! next week.
Happy fireworks!
Friday 22nd October
We made it to half term! Well done Wrens!
This week we secured our learning with The tiger who came to tea. We thought about what we would like to eat if we were the tiger who came to tea. We also investigated where real tigers lived. We found they live in both cold and warm countries and that they eat meat and their stripes camouflage them in the long grass.
In maths we started to explore a 5 frame and investigated putting counters on the frame to see how many counters and how many spaces.
In PE we had a challenge to see how many laps we could run around the track. We have saved the information and will see if we get stronger and can run more laps as this school year progresses.
Have a great half term!
Friday 15th October
We are learning a new story in talk 4 writing. The story is one that many will already know - The tiger who came to tea! We have enjoyed learning new actions and drawing story maps to help us remember the story. We will continue to learn with this story next week.
In mathematics we have been learning about patterns, We have been creating ABABAB patterns with either objects or colours. We have also been trying to spot fix patterns when they have a error in them.
In PE we have used different obstacles to practice hopping, running, tip toe and jumping. Building whole body strength.
We have been practising our '3 friend hold' to make sure we hold our pencils correctly. Two fingers hold and put pillow finger under. Tuck the other two fingers right away! We have started to learn the abracadabra letters with help of the brave and scared monkeys.
In art we continued to experiment with patterns by painting tiger stripes ready for our next classroom display.
Friday 1st October
We have had a wonderful but slightly more autumnal week. It appears to have rained everyday at 3.30 on the dot!
The children are still learning The Disgusting Sandwich and are now able to retell most of the story with words and actions. We had a think about how the badger was feeling during the story - happy, sad, angry and of course very very hungry! We have used The Disgusting Sandwich to help us with our art this week.
In maths we have been sorting objects and thinking up rules for sorting.
Getting changed for PE is still taking some time, but they are becoming more independent and looking after their own belongings.
Pencil hold is the most important thing we have been working on as a good grip means we can get a head start with forming letters correctly. Remembering three friends and a pillow finger.
Friday 24th September
We have had such a busy week getting to grips with our first routines and starting to learn phonics.
The children have also began to learn the story of The Disgusting Sandwich. We started by drawing our favourite part of the story and then started to learn actions to help us to tell the story.
In Maths we have been looking at Just Like Me, spotting similarities and differences and finding matching pairs.
We have spent a lot of time learning some new songs about days of the week, months of the year and our seasons as well as Nursery Rhymes.
In kinetic letters we have been looking at the different positions such as strong bear to sit in, proud penguin to stand up in as well as the first few moves that we will use to form letters. We have also been working on pencil grip using our three friends to hold a pencil.
The Wrens have enjoyed PE, and are practising getting changed independently as well as following instructions to keep ourselves safe. We have played a few different games in teams using bean bags and hoops.
Friday 10th September - Welcome Wrens
What a wonderful week we have had!
All the new Wrens have settled so well into their new morning routines. They have enjoyed exploring the outdoor and indoor areas and resources.
The weather was so kind to us which meant we spent a lot of time outdoors exploring all of the school site. The Wrens loved the woods and many of them tried their best to complete the whole of the trim trail!
We are very much looking forward to next week where there will be so many new 'firsts' for the Wrens including PE, Kinetic letters and maybe joining the rest of the school at play times!
Get a good rest. Lots of new learning next week!
The reception team