Kestrels 2018-19
A Popa doodle do Performance!
Fri 19th July 2019
What a fantastic week of performances by Kestrel Class! They pulled off their production of 'We're all going on a summer holiday' in spectactular fashion, completing three dazzling performances. However, don't take my word for it. Below are some play reviews written by Kestrel class. There may be some slight editorial bias but I think we can forgive that this week!
Extracts from Molly, Evie and Izzy's play review.
On Wednesday the 16th of July, kestrels performed their very last performance at primary school. The play itself was magnificent, however the actors made sure there was a lot of emotion spread throughout the production. The play was outstanding and produced a lot of comedy and happiness.
At the end of the play, along with floods of tears, the children beckoned Mrs Meredith forward to the stage for high fives and many hugs. I suppose we don't need the Wi-Fi to keep us happy after all.
An extract from Charlie's review.
.I have never seen such marvellous acting, and I have never laughed so much in my life. There was an incredible cast range from the leads all the way to the extras and to the singers. They all played an amazing part in this play. As well as comedy, it had a fair share of romance and had an extremely touching message. I would personally like to say a huge thank you to the years 3,4 and 5 for helping out with this production. Even though they didn't get much stage time they still participated, and it just wouldn't be the same without them.
We were all stars this week, however, we did have a star of the week for Kestrels. This week we celebrated with Amelia F. Amelia has had an incredible year 6, throwing herself into her learning with enthusiasm and focus. She has made excellent progress in her learning and has grown into a confident young lady. We are very proud of you Amelia - A worthy last Star of this academic year!
Rehearsals and Rainforests!
Fri 5th July 2019
We have been working incredibly hard on rehearsals this week for our summer production! I have been so impressed with how quickly everyone has learned their lines and how much enthusiasm there has been for all the music!!
We have also, as part of 'Arts Week' been reflecting on the impact of deforistation on the rainforest. Our particular focus was on snakes and we have produced some wonderful rainforest snake artwork for display.
The year 6's took part in a transition session run by the church called 'It's your move'. This was an excellent session which gave the children an opportunity to ask questions, reflect and learn more about what to expect next week during their transition days and beyond.
In R.E this week, we learned about the jewish festival of Passover and created our own symbolic Seder plates.
The year 5's enjoyed another swimming session a welcome respite from the heat this week!
Bishops Prize for R.E. - Congratulations to Alice who received this prestigious award. A well deserved prize in recognition of her hard work and commitment throughout the year.
Over and Above - Special thank you to Harry, Sam, Bella and Charlie R - who helped rescue the 'snake situation!!!!' and provided me and Mrs Brickwood with some much needed support!
Newspapers and Productions!
Fri 28th June 2019
A packed week of writing and rehearsals for Kestrels this week.
We completed our Newspaper reports and really excelled ourselves with the standard of our writing. We have really worked well as a team this week; sharing ideas and helping each other to edit and improve our work!
In science we concluded our investigation into irreverisble changes and we pushed ourselves to include our scientific vocabulary to explain our results. In history, we learned all about Queen Victoria and started to make some comparisons between the monarchs that we have learned about so far this term.
The end of the week was an exciting time as we started to get to grips with our end of year production. Roles have been allocated and rehearsals have begun! The enthusiasm and commitment from the whole class has been amazing so far!
Star of the Week: Congratulations this week go to Rhys, who produced a superb Newspaper Report. He really pushed himself to showcase his most skillful writing! Having cut his finger during the process, it really had taken 'blood sweat and tears!!!'
Thank you in advance for any support you can give the children to learn their lines for the play.
A week full of variety
!
Fri 21st June 2019
Another busy week has taken place in Kestrel class!
In literacy, we have moved on to journalistic writing. We are going to covering the murder of the sheriff in 'Holes'-our class novel! So far, we have looked at newspaper features, learned to write quotes and finally we have started to plan out our newspaper article.
In Topic we have moved onto learn about Queen Anne and the significance she had in our british history as she was the queen who united our previously independent kingdoms! In science, we completed more investigations into irreversible changes in materials as well as our year 6's learning about human reproduction.
We have also been spending time this week rehearsing for our sports day race and Maypole performance as part of the Summer Fete.
Well done to all of the kestrels who took part in sports day today. We had some great wins for individual races, however, it was the support for the younger children as we completed our fun carousel of activities that caught my eye! Well done year 6's for performing your Henry VIII race with aplomb! Thank you year 5's for helping with the props!
Kestrel Star of the week: Well done to Alice, who has produced some excellent writing this year and has worked hard to deliver outstanding progress! A truly deserving star this week.
Apologies - Photos will be uploaded next week due to technical fault!!
A Fantastic Week of Learning For Kestrels
!
Fri 14th June 2019
We have had a full and varied week of learning in Kestrel class this week.
In literacy we have been working incredibly hard to ensure that our biographies were completed to an outstanding standard. We completed our hot write today and we are feeling confident that we have all produced our absolute best work!
In science, we completed some interesting experiments focusing on how to reverse the changes brought about when we mix materials with water. As a class, we completed the investigations that we designed last week. We learned that insoluble materials can be retrieved from water using sieving or filtering and soluble materials can be retrieved via evaporation. The mixtures where materials reacted and formed different materials couldn't be reversed.
We had two excellent sessions from the Northamptonshire Nursing Team on Wednesday. The first session on puberty was extremely informative and the children responded positively to the session. In the afternoon, the year sixes benefited from a mental health and well-being session. The lesson was full of useful tips on how to keep ourselves feeling positive as well as how to manage those times when we feel worried.
In Topic, we learned about King John and his Magna Carter. We even wrote our own version of a Magna Carter for Greens Norton School.
We had some fantastic ideas and I would happily sign up to most of them! Here is Ethan's vision for our school!
"I want a school where you can walk in and everyone can greet you a good morning, where peace can be kept and where no arguments can break out. A sort of school where kindness can be shared and love can be spread!"
We ended the week making our contribution to the lapathon! We enjoyed our 30 mins of running and were fortunate enough to complete our laps before the rain descended! We would love it if our efforts could be rewarded with a donation to the school - Thank you! Finally, rehearsals for the forthcoming Maypole dance started to show some progress, so we ended the week on a high!!
A Historic Week in Kestrels
!
Fri 7th June 2019
We have immersed ourselves in the world of King Henry VIII this week as part of both our topic and literacy work. We have researched facts about his extraordinary reign to use within our text genre for this term-biographies. Some excellent writing has already been produced with everyone working incredibly hard to include a wide range of sentence structures and a variety of punctuation.
In science, we have started to look at the properties of materials. This week's investigation focused on mixing a range of materials with water. We learned what constitutes a solution and started to think about what other investigations we could do to reverse the effects of these mixtures.
In R.E. this week, we looked at the Jewish Shema prayer and rewrote our own versions to declare the Jewish faith. In French, we looked at the vocabulary associated with different foods!
In PSHE, we started this term's focus on protective behaviours. We started by thinking about keeping ourselves safe and identifying and responding to our own early warning signs. We also took part in an anti-bullying workshop run by Warts'n'all Theatre Company.
Whitemoor Lakes
!
Fri 24th May 2019
Our year 6's joined with Silverstone and Blakesley year 6's for their residential to Whitemoor Lakes this week. We were so proud of everyone as they pushed themselves to take on challenges and conquer fears, as well as build friendships across the three schools in readiness for their transition to secondary school. Everyone had great fun and came back safe and sound! Well done guys, Mrs Brickwood and I were really proud of all of you!
SATs and Celebrations
!
Fri 17th May 2019
We are so proud of our year 6 children this week, as they have coped brilliantly with their SATs assessments. Each morning we joined together for a fun breakfast and play and it was great to see them supporting each other. They all approached each test with focus and determination and we could not have asked for more!
A special thank you to our Year 5s, who have been great at just fitting in with Kingfishers this week.
The week ended on a high as we celebrated with a SATs fun day! Posing for our end of year photos, competing in rounders and enjoying a delicious picnic lunch as well as some extra snacks throughout the day!!!!
A great way to end the week! A big thank you to all parents/carers who provided the wonderful food for our picnic You will see from the photos how much we all enjoyed it!
Have a restful weekend everyone!
Final Preparations in Kestrel Class
!
Fri 10th May 2019
We were putting in place the final preparations for our 6's this week in readiness for next week's assessments.
In maths, we revisited fractions, explored ratio, practised solving backwards problems using the inverse operation before finally moving onto solving algebra problems.
We also completed our final pieces of grammar revision. Our focus this week was determiners, noun phrases and apostrophes!
We accessed a range of shorter reading texts to increase our exposure to different genres and vocabulary.
We have all worked so hard and I know that next week will be a great opportunity to show just how much you have all learned. Rest and relaxation is on the agenda for this weekend as well as a large dose of positive thinking! Good Luck year 6's you will be fab!!
A special thank you to our year 5's, who have been working hard with us, and have been so accommodating with all the changes to their timetable! Hopefully you will enjoy your time with Kingfishers next week, but hurry back as we will miss you!!
In the midst of all the hard work, we did enjoy a special visit from a prickly friend! Brackley Hodge Watch came and delivered an information assembly sharing the devastating news that we have lost 97% of the adult Hedehogs in the UK. We were told ways in which we can help and our school councillors are going to help us to co-ordinate our response to this crisis.
Kestrel Star of the Week: We celebrated with Lucy this week. Lucy has made outstanding progress this year as a result of her continuous effort and determination. She has maintained a positive attitude throughout and has really developed her self-belief! We believe in you Lucy - you are a truly remarkable star in our class!
A Whirlwind Week In Kestrel Class
!
Fri 3rd May 2019
This week has been a whirlwind of learning in Kestrel Class.
We have covered several different areas in maths this week. In the mornings our focus has been on co-ordinates and translating and scaling shapes, whilst in the afternoons we have continued to look at data handling - this weeks focus has been pie charts.
We are becoming grammar gurus as we finesse our grammatical skills! This week we have mastered the subjunctive, revisited the many uses of commas as well as understanding how the use of commas can change the meaning of a sentence! E.g. Let's shoot, grandad! Without the comma, things were not looking good for grandad!! We also secured our knowledge of adverbs and we ended the week brushing up on the many different types of pronouns!
In R.E, we started to explore the Jewish religion and learned the story of Esther. We used drama to re-tell parts of the story and then reflected on which parts were the most important. We all enjoyed our visit from the Imam and Adanyah's mum on Thursday and learned lots about the Islamic faith and their special celebration 'Ramadan'.
Our year 5s have been joining their peers in Kingfishers class for literacy this week and they have started to immerse themselves in instructional writing. They also completed their first lessons in swimming on Thursday following their assessment session last week.
We ended the week with Friday university and some well earned fun on the field!
Working Hard in Kestrel Class
!
Fri 26th April 2019
We started back at full speed in Kestrel class, as we are working hard to ensure that our year 6's are ready for their SATs.
In our morning maths we have been investigating missing angles on straight lines, triangles, quadrilaterals and round a point. We ended the week even looking at corresponding angles on parallel lines. In the afternoon, we focused on data handling looking at pictograms, bar charts and line graphs.
In grammar ,we have continued to learn about tenses, focusing our learning on the present, past and future, perfect tenses! We ended the week looking at the differences between formal and informal language.
On Tuesday we started our topic for this term by researching all the monarchs that have reigned since 1066. We were amazed at the length of some of the reigns! We even started to create our own royal timelines.
Our year 5's have had a varied week. Some of them represented us in a cluster netball competition and others spent the day on Friday training to become sports leaders for next year. On Thursday they all went swimming for their first session at Towcester Leisure Centre.
After all the hard work, we joined up with Kingfishers class for some hotly contested rounders and netball matches.
Kestrel Star of the week: We celebrated with Archie this week as he has come back after Easter with a fantastic level of enthusiasm and focus. In spite of all the hard work, Archie has remained positive and determined. Thank you Archie – you make our class a great place to learn!
Spellings - Your child has had personalised spellings this week based on the following year 5/6 spelling words:
desperate, determined, thorough, according, physical, necessary, achieve, individual, profession, persuade, aggressive, frequently.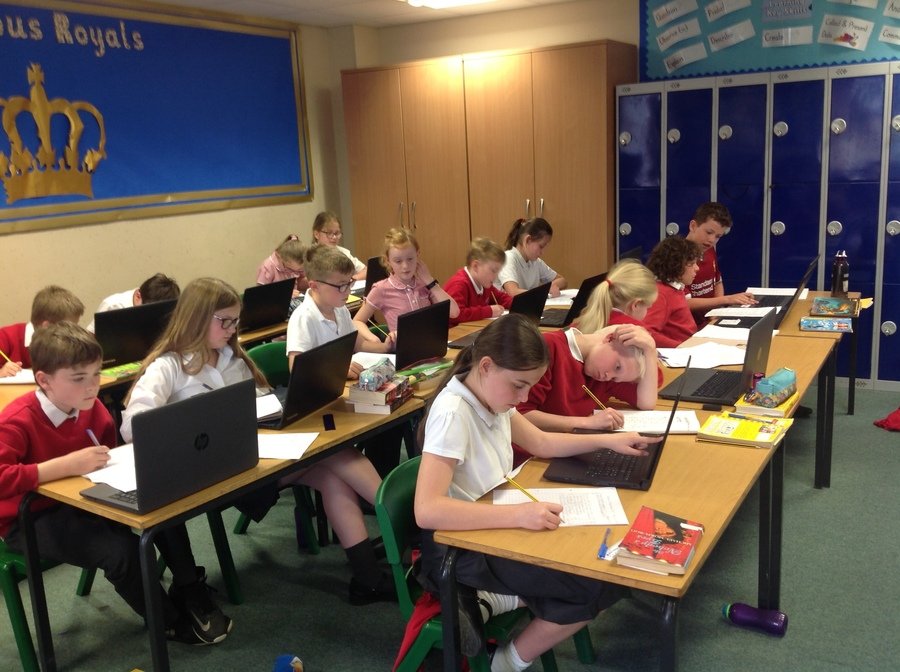 A 'Wonder'ful End Of Term
!
Fri 5th April 2019
A full but fun week in Kestrel class to end the term. We completed our learning on 'The Salvation' as part of our R.E this term and presented our thoughts as part of our Easter service at the church. We had reflected on the sacrifice that Jesus made and how this can inspire us to make sacrifices in our everyday life. We also thought deeply about Jesus' example of forgiveness. We discovered that forgiving others can not only make those people feel better but also can give us positive feelings of love and caring too.
In the words of Izzy:
"Forgiveness is a characteristic that can change anything. If you don't forgive, feelings such as sadness, guilt and heart break can destroy your life. Forgiveness is a gift to the heart. If you do forgive then your relationships with others can gain strength again and you can put differences aside. You can feel joy, happiness and have a heart filled with love"
In maths, we completed our focus on area and perimeter by exploring how to calculate the area of triangles and parallelograms. In grammar, we learned about the perfect tenses! In science we completed an investigation into the changes that variations in string thickness and length can have on pitch.
We ended the week with a fantastic whole school talent show that was really a superb way to end our I believe topic. Many children showed that they had lots of self belief and courage as they took to the stage to show us their talents. A special well done to Bella and Harry who represented Kestrel class with some awesome breakdancing!! We were very proud of you!
The final 'Wonder'ful end to the week was an opportunity to watch the film Wonder which has been a superb accompaniment to our topic this term.
Have a lovely Easter everyone and I look forward to seeing you next term!
A Reflective Kestrel Class
!
Fri 29th March 2019
Another packed week of learning in Kestrel class this week.
In literacy, we completed our discussion texts on the impact of plastics. We tried very hard not to show bias and represent both sides of the debate. However, I think we all really 'believe' that we can all still do more to save and protect our environment. This was a great piece of writing to include as part of our I believe topic; it really got us questioning what we would be prepared to sacrifice to protect the planet.
Sacrifice was again front and centre of our thoughts as we took part in the Easter experience in church on Monday afternoon. Kestrels reflected well as they considered various aspects of the Easter story. Our pictures this week show the various activities that we undertook with the Reverend Paula and all the kind volunteers at St. Bartholomews. We also spent time during R.E. this week thinking about what we could sacrifice at this time and the impact it would have. We realised that it doesn't always have to be a material itm and some of us thought about sacrificing some of our time to help and support others!
In maths we immersed ourselves in area and perimeter of compound shapes. We were calculating missing dimensions and applying our knowledge to reasoning problems. In addition, we tested our knowledge of 2d shapes and also investigated the properties of 3d shape. We even created our own 3d shapes - some of us even conquering a dodecahedron!
As we approach SATs, we are getting to grips with some of the more complicated aspects of grammar. Progressive tenses were again the focus this week and hopefully we are now feeling a little more confident in this area.
The year ended the week on a high with our year 5's performing in a ukulele concert and our year 6's celebrating having done really well in their latest reading assessment!
Star of the Week: This week we celebrated with Harry. Harry is quite an inspiration to us all as he always brings his 'A' game to the classroom. Harry is always working hard, answering and asking questions and pushing himself to improve and grow. Moreover, Harry is also a fantastic team player. Who could ask for more!! Well done Harry!
Building Capacity in Kestrels
!
Fri 22nd March 2019
Another busy week for Kestrels class as we continued to develop our understanding of measure. This time in maths, we were solving capacity problems and converting litres and millilitres. We also started to explore area and perimeter and investigated how rectangles can have the same area but differing perimeters. We are moving into the geometry part of the maths curriculum and your child has been given some information on the properties of 2d shapes to learn at home. Please support your child in revising this key information, in order that we can move onto applying this knowledge in school.
In literacy, we wrote both sides of our balanced arguments. We worked hard to include powerful conjunctions and vocabulary as well as a variety of sentence structures. We look forward to concluding this genre of writing next week.
In science, we concluded our sound experiment focused on pitch and in R.E. we shared our knowledge of Sikhism with the rest of the school as part of the faith assembly. We also started to deepen our understanding of the events within the Easter story. We examined the different ways in which Christians celebrate this time and we designed our own ways to reflect on this time. Some of us wrote hymns while some of us designed different ceremonies.
Year 6 booster groups have been progressing well and I would like to commend all the children for their focus and enthusiasm during these sessions!
Star of the Week: We celebrated with Charlie B this week. Charlie has been working incredibly hard in all subjects this year but we celebrated his achievements in maths this week. Charlie has grown in confidence and smashed this weeks assessments! Well done Charlie you are a star!!
Measure For Measure!
Fri 15th March 2019
We dived into the world of measurement this week in maths. We were converting and solving problems with length and mass using both metric and imperial units of measure.
In literacy, we started to write our discussion texts. We planned our texts using our class research and then learned how to write a great introductory paragraph. We applied skills such as rhetorical questions and emotional language to our writing.
In science, we finessed our musical talents as we completed yet another sound experiment; this time we focused on pitch. In Topic, we have been learning all about Fairtrade and even made and sampled our own Fairtrade lemonade. Eating and drinking were on the agenda with R.E. this week as well as we recreated a Sikh Langar. We all worked together to prepare, enjoy and clear up our meal; truly embracing the sikh value of equality.
Kestrel Star of the week: We celebrated with Erin this week as she really helped us in our maths work! Erin showed great skill in applying her knowledge of measurements in order to solve some trickier conversions! Well done Erin! You are growing in confidence and we are very proud of you.
A Balanced Week in Kestrels
Fri 8th March 2019
This week in Kestrel class, we continued learning about balanced arguments. We learned how to develop arguments for both sides of a debate by considering the positive, negative and interesting aspects of contentious issues! We also conducted some research into the impact of plastics on our environment to use as part of our own discussion text.
In maths, we focused on percentages. We applied percentages to a range of real life multi - step problems such as service charges in restaurants, sale discounts in shops and even banking decisions relating to preferential rates of interest!!
In R.E. we worked on asking some big questions of God. Questions such as "How do you feel about people damaging your world?" " Why do you allow illnesses, such as cancer, to destroy the people you say you love?" show just how deeply we were thinking this week.
Thursday brought some more deep thinking with a fantastic World Book Day! We spent the morning looking at the meaning of the precepts in our class novel 'Wonder.' We then got stuck into a performance poem - Strict by Michael Rosen! We loved learning and performing this poem. I think our version even gave Mr Rosen a run for his money! We also loved reading with our Wren buddies!
Star of the week: We celebrated with Izzy P today! Izzy is so focused and determined that she impresses us every week with her attitude towards her learning. Go Izzy you are a super star!!
A Great Start!
Fri 1st March 2019
Kestrels got straight back into the swing of things with another busy week!
We welcomed two new faces to the team this week. It was welcome back to Seb, from Pacesetters, who is going to be taking our outdoor P.E. lessons this term. During our new outdoor P.E. slot of Tuesday, Kestrels were introduced to the sport of handball. We also welcomed Mrs Shadforth, who will be taking Kestrels for science this term.
In literacy, we started our new genre of writing balanced arguments. We explored the features of this text and explored the language of bias and fact. In maths, we started the week by looking at equivalent fractions, decimals and percentages before moving onto to calculating percentages of amounts. Our grammar focus was apostrophes of possession.
As part of our topic we studied several artists and learnt how they used colour to represent emotions. We then created abstract representations of emotion using what we believed were the most meanngful shapes, patterns and colour. In science we continued to learn about sound. This week we planned and conducted an investigation on how to insulate against sound. We discovered that different materials can reduce the size of sound wavesand thus reduce the volume of sound.
Friday saw us all embark on new university challenges. A special mention must go to Ethan who is lready applying his newly learnt DT skills to making another project as well as mending his own coat!! Great to see your new life skills being put to such good use!!
Star of the week: We celebrated with Ocean this week, who blew me away with his mental dexterity when finding percentages of amounts. Great maths this week Ocean - keep it up!
A Testing Last Week!
Fri 15th February 2019
Kestrels completed a successful last week of term with a whole host of challenges!
We were really pleased with ourselves during assessment week. In our grammar assessment we had all shown excellent progress since our last review. We also completed three maths papers and yet again, we had all shown progress in key areas which boosted our confidence! I was really proud of the way in which we all encouraged and supported each other, wherever we were on our learning journey! A really impressive show of team spirit Kestrels- well done!
In literacy, we completed our "Highwayman" narratives and published them ready for display! As part of our topic this week, we focused on the area of self belief. We thought carefully about what positive things we could draw upon to help us feel better about ourselves and boost our self esteem. These were fitting discussions to be having as we discussed as a whole school the importance of taking care of our mental health.
We also continued to develop our ICT skills as we worked on our moving narrative stories using scratch! We finished this terms P.E. focus on circuit training with many of us having improved our stamina over the 6 week period. Lots of us established new personal bests against each of the physical challenges and again our team spirit showed through as we encouraged each other through some tricky tasks!
Kestrels Visit A Gurdwara!
Fri 8th February 2019
The week started well for Kestrel class, with a fantastic visit to the largest Gurdwara in Milton Keynes. This visit linked to our topic of I believe and the specific religious focus of Sikhism. Kestrels thoroughly enjoyed learning more about sikhism as well as understanding some of the rituals and customs that are observed at the Gurdwara. We were all made to feel very welcome and even played some traditional sikh instruments. Take a look at the photos to see our visit in detail.
As it was safer internet day on Tuesday, we spent the afternoon looking at the area of permission and consent. We learned about the responsibilities of organisations to seek permission before they use your personal data and the importance of not clicking 'I accept' for anything that we don't understand. We also discussed our responsibilities on line. We learned that we should also ask for permission before we other people's personal data. We also worked through some scenarios where we could compromise so that everybody feels comfortable with what is shared on line.
In maths, we moved onto finding fraction of amounts and enjoyed another week of making progress in our calculation assesments. We have been working really hard over the last few weeks in guided reading. Our focus has been on inferring meaning and justifying our answers with evidence from the text. We finally took a reading assessment to see whether all of our hard work had paid off! We absolutely smashed it! Our scores had increased significantly! Well done Kestrels!
We enjoyed our visit from the paralympian footballer, Alistair Patrick-Heselton. His self belief and enthusiasm inspired us and we shall delve iinto how we can improve our self belief next week.