Herons - Year 3
Penultimate week and Performances
Fri 13th July 2018
This week has been very busy for the children. For those of you who came to watch the KS2 performance of The next big step, I'm sure you will agree that singing practice has paid off. Although we now have some very tired children!
We have written our very own character descriptions and will turn them into our very own class book next week!
In topic we have looked briefly at the 1980s along with functions of the skeleton in science. During RE we did some research on the laptops to create our own Muslim leaflets.
Well done to all the children who brought in homework for the exhibition; it is in the hall until Monday morning and looks great as always!
Congratulations to Mai who is Herons star of the week this week! She has been so enthusiastic and has put in so much effort throughout the year.
Final ever Year 3 spellings:
1. Wednesday
2. Where
3. Were
4. Weather
5. Whether
6. Particular
7. Peculiar
8. Pressure
9. Position
10. Potatoes
Rehearsals and Description
Fri 6th July 2018
This week in Maths we had a super quick look at capacity as part of our measures unit of work; the children understood the concept well.
On Tuesday and Wednesday morning we went in the hall to rehearse with the rest of Key Stage 2 in preparation for 'The Next Big Step' performances which will be happening next week.
In English we have begun looking at a description about Boastful Barnabus, from 'The World's Word Children 3'. The children have enjoyed spotting the features and have started to plan our own characters to write about over the upcoming last 2 weeks.
We have had a look at the countries that have taken part in the World Cup this year; the children were really good at spotting most of the 32 nations on a world map! We also concluded our plant investigations, and know what plants need to live!
I hope the children enjoyed their transition day!
Spellings
| | |
| --- | --- |
| 1. | Strength |
| 2. | Suppose |
| 3. | Surprise |
| 4. | Sentence |
| 5. | Special |
| 6. | Separate |
| 7. | Straight |
| 8. | Strange |
| 9. | September |
| 10. | Sensible |
Warm days and Woburn!
Fri 29th June 2018
This week in Maths we had a look at mass, we looked at scales and weighing objects. All of us can now answer mass word problems which is fab!
In English and topic we wrote about...
WOBURN SAFARI PARK!!!
The children all had a wonderful day and we set the example for the younger children. It was great to see all the animals and take part in a 'Animals and their senses' talk - herons were brilliant at answering all the questions about animals skeletons!
We have also been learning songs in preparation for the Year 6 leavers production! More details to follow!
Congratulations to Ollie who is our star of the week this week! Ollie was a delight on the school trip, showing superb behavior and appreciation for a day out of school! Well done!
Spellings for Monday
1. Drive
2. Driver
3. Driving
4. Solve
5. Dissolve
6. Solution
7. Appear
8. Apparent
9. Disappear
10.Disappeared
A busy week in Herons class!
Fri 15th June 2018
In our maths lessons, alongside assessments, we have looked at different types of lines (horizontal, vertical, parallel and perpendicular). We also spent a lesson with Magpies class and worked together on some investigations!
During our english lessons we have begun writing our recount of 'our perfect day' altogether - this will carry on next week!
We have been busy in topic and science learning all about the skeleton and continuing our plant investigations.
We were lucky enough to have some Saints community coaches join us on Thursday! The children enjoyed the morning and an introduction to rugby for some of them.
Spellings for Monday:
| | |
| --- | --- |
| 1. Probably | |
| 2. Promise | |
| 3. Purpose | |
| 4. Question | |
| 5. Regular | |
| 6. Remember | |
| 7. Sentence | |
| 8. Surprise | |
| 9. January | |
| 10. Vertebrae | |
An Active Week!
Fri 25th May 2018
In maths this week we have finished off looking at time. We took part in a lot of collaborative work this week, measuring the time it took to complete tasks in seconds and solving some tricky time problems!

In English we finished our work on newspapers and wrote up our newspaper all about the lapathon! During topic we had a look at Alexander Graham Bell and wrote some diary entries about using telephones for the first time.

As part of active schools week we took part completed various active activities in school!
1. The lapathon, completing 356 laps as a class with fruit afterwards
2. All Stars cricket taster session
3. Active maths relay
4. Beat the teacher lunges and star jumps
5. Kick rounders in an extra PE lesson
WELL DONE EVERYONE!

Congratulations to Ethan, who is our star of the week this week! Ethan showed true sportsmanship throughout the week and has been working independently which is fantastic!

Have a fab week!

Spellings for after half term:
They
Obey
Eight
Weigh
Vein
Rein
Freight
Sleigh
Veil
Neighbour
Squeezing five days into four!
Fri 11th May 2018
In our Maths lessons we have started to look at time! Going over time frames such as days/months/years then beginning to look at telling the time on an analogue clock to the nearest 5 minutes and some of us to the nearest minute which is fantastic!
During English we have begun a new unit of work on newspaper articles, identifying structural and grammatical features before researching the royal wedding. We are going to write a newspaper article on the royal wedding as a class next week.
In topic lessons we have planted some sunflower seeds and painted some VERY abstract paintings!
A massive well done to Taylor who was our star of the week this week! Taylor has a very mature attitude towards learning and makes the most of her lesson time. Myself and Mrs Brickwood were very impressed with her scientific language!
Spellings for Monday (ous endings)
Jealous
Obvious
Curious
Furious
Enormous
Dangerous
Mountainous
Tremendous
Glamorous
Courageous
Fraction Frenzy
Thu 26th April 2018
During Maths we have continued to look at FRACTIONS! The children are becoming more confident at identifying equivalent fractions and we have begun ordering and comparing them this week, making sure we remember the meaning of these symbols < > =
We are practising our joining in kinetic letters and we can now join a and d to the rest of the jumper family! I look forward to spotting these joins in the children's writing!
In English our letter writing has been boxed up and we have written one together. Explaining what we think of school as if we were Ike La Rue, the class have come up with lots of ideas!
In topic and science we have identified the parts of a plant and have learnt all about William Caxton and the printing press, which was invented in the 1400s! Without this invention people in our country may not have had access to books, posters and newpapers like we do today.
Well done to Lilia, our star of the week this week! Lilia has had an amazing attitude towards her leanring recently! She was been working independently (something we are working on) and has made great progess! Fantatstic work Lilia!
Spellings for Monday are words with 'sc' that sound like 's'
Scene
Scenery
Scent
Scented
Science
Scientist
Scissors
Fascinate
Descend
Discipline
End of Spring Term
Thu 29th March 2018
In Maths we have carried on looking at fractions. Most of us can now convert tenths to decimals and represent fractions in different ways.
In English we have had a little look at instructions, had a go at followig them, identified the features of them and then wrote our own. Our topic work helped us with this.
We made our own compost - complete with worms!!!! We used this to create a floor book, working together as a class and the writing our instructions.
On Tuesday we went to church, we smashed our conscience alley and sang beautifully, thank you to all that joined us!
No star of the week this week but a HUGE well done to all of herons who have worked really hard this term! Have the most amazing easter and I look forward to seeing you all in a couple of weeks!
Miss Snook
Spellings are a recap of the patterns we have learnt this term
Unhappy
Undone
Disobey
Disallowed
Action
Pollution
Which
Witch
Accidentally
Favourite
This week's learning!
Fri 16th March 2018
In Maths we have continued to look at measures, and now know what perimeter is and how to measure, calculate and use it to solve word problems.
During our English lessons we have almost finished our work on Hodgeheg, writing the ending to our own journey tales and making sure we are using grammar features such as prepositions, expanded noun phrases as well as lots of conjunctions!
We have also been busy in topic and RE. In topic we have had a little look at fossils, the process of how they are formed, different types and influential figures such as Mary Anning. In RE we have been busy practising our Judas conscience alley in preparation for our RE assembly on Monday.
We also spent some time with Robins class on Friday afternoon, listening to each other read. Both classes really enjoyed this and we hope to make this a regular activity!
Well done to Ollie, Ruby D and Ruby M who came with me to Woodford Halse X-Country on Wednesday; they all ran super well although it was a tricky course with lots of hills and streams!
Congratulations Ruby M who also got star of the week this week for showing perseverance inside and outside of school!! Well deserved Ruby!!
Spellings for Monday are a list of homophones. Anyone wishing to use an online resource for practising year 3/4 spellings and spelling patterns please feel free to look at the spelling frame website - http://spellingframe.co.uk/spelling-rule/3/Year-3-and-4
Here
Hear
Grown
Groan
Seen
Scene
Whether
Weather
Aloud
Allowed
This week in Herons class!
Fri 2nd March 2018
In Maths this week we have begun learning about measurement, and have been learning how to measure lines and record their length in m, cm and mm as well as in mixed units. We have been using rulers and tape measures to do this, this unit of work will carry on into next week - and I think the children are enjoying the practical side to the Maths lessons!
In English we are beginning to write our own story based on The Hodgeheg, we have only written the opening so far as this week as been cut short! But I am sure we will catch up with ourselves.
Thursday was World Book Day, which was a fantatsic day across the school! In Herons we read lots of Mr Men and Little Miss Books, and had a go at creating our very own characters with some facts about them. We took on a book quiz in teams, wrote a book review as well as joining up with Robins for some buddy reading! A fab effort by all for your costumes and enthusiasm so thank you. Pictures will be uploaded soon!
Well done to Emily who is our star of the week this week, her hard work in all lessons and increase in confidence is certianly paying off! Well done Emily I am sure we will celebrate your achievements in next weeks assembly!
Thank you to everyone who came to parents evening Wednesday and Thursday evening despite the weather! Lovely to meet some of you again, please let me know if you ever have any questions.
Due to not being in on Friday homework for this week has not been given out, so times table practice, spellings, reading or some time on your projects will be beneficial.
Spellings for THIS Monday - A list of 3/4 words
Heard
Fruit
Guide
Group
Famous
February
Favourite
Extreme
Experiment
Astronaut
Back down to Earth!
Fri 9th February 2018
This week on Wednesday we took on a special challenge as a school, cycling, running and resting 400km to the space station! Herons went first and I think we all enjoyed at least one element of the challenge and did amazingly well with our little legs (even if it was the resting part!).
Throughout the week we have been researching. drafting and writing up our own biographies based on a fairytale character trying to include all of the features we have been learning about.
During our Maths we have had fun looking at pictograms, answering questions about them and even conducting our own survey and producing a pictogram.
With Mrs Brickwood we talked about what Christians might give up for lent this year and had some pancakes as a special treat.
Well done to our star of the week this week which is Georgina. Not only has she been cycling REALLY fast but Georgina has been working really hard in Maths and English recently and i'm really proud of her wonderful contributions in class.
Spellings for the first day back after half term (ending in que or gue)
Cheque
Mosque
Antique
Unique
Boutique
League
Plague
Tongue
Fatigue
Vague
Happy Half Term!
Miss Snook
Our learning this week
Fri 26th January 2018
In our English lessons, Herons have begun to look at biographies about fairy tale characters, making sure that we understand the structure and grammar features which are quite tricky and new to us! We have used Snow White and Dick Whittington to help us with this. Everyone has had a go at writing an introduction as well as using a subordinate clause to describe the life of these characters. This will carry on over the next couple of weeks.
In Maths we have explored using numberlines to represent repeated subtraction, as we now understand that this can help us with tricky division problems, and solved some 2 by 1 digit multiplication and division word problems - showing some fantastic perseverance here Herons, well done!
In topic we have looked briefly at the timeline of the space race, and we can now tell you the countries that took part and some of the things that they did.
Our star of the week this week was Lilia. Lilia is always following our school rules and is such a kind, caring and considerate member of our class. A real superstar!
Spellings for Mondays test (incase they have been misplaced!)
K words spelt Ch
School
Echo
Ache
Chaos
Stomach
Scheme
Chemist
Chemistry
Character
Technology
Heron Highlights
Fri 12th January 2018
We have been very busy this week, however instead of me telling you what the children enjoyed I have let them decide...
I enjoyed making adverts for moon trips in Topic.
Tawny
I liked Maths, going over our times tables in lots of different ways.
Peter
My highlight of the week was learning about all the things in the solar system during Topic.
Ruby H
Drama activities in RE with Mrs Brickwood
Ashley
Being able to say what is in our pencil case in French
Beth
Writing poems in English based on the poem 'If all the seas'
Lilia
I liked solving word problems and reasoning in Maths
Taylor
Our star of the week this week is Peter. This is because Peter is always following the school rules, being ready, being respectful and being safe. He is also a kind and friendly member of Herons and puts a smile on lots of our faces! Well done Peter!
Spellings for Monday all end in OUS
Famous
Various
Serious
Jealous
Nervous
Enormous
Posionous
Obvious
Furious
Previous
Have a lovely weekend!
Non - Stop in Herons!
Fri 8th December 2017
During our Maths lessons this week we have been busy revisiting place value. This included problem solving, using < > and estimating where a 3 digit number might be on a number line.
In English we have been planning out our own versions of a beating the baddie story by using the format of Hansel and Gretel to help us. We have also come accross some new language features such as colons, using shorter sentences and some sophisticated time conjunctions.
We were very lucky this week to have 2 basketball sessions outside, as well as finding out about the reasons why rivers or oceans might be polluted AND create a giant christmas paper chain for our classroom.
For those of you who made it, i'm sure you will agree the children were fantastic in their recorder concert. Although they were very nervous they performed so well to lots of adults and the rest of the school, so well done! Very proud of you all!

Special shout out to Mai, our star of the week this week. Mai has used her wonderful imagination and willingness to learn to get some super ideas for her beating the baddie story. She also ran brilliantly (despite the cold weather!) at the cross country, so well done Mai!
Spellings for Monday are a variety of conjunctions, which I would like the children to try and get into their writing next week as well -
Until
Because
Before
Since
Afterwards
Although
Meanwhile
Provided
Therefore
Eventually
Hardcore Herons
Sun 26th November 2017
In Maths this week we were focusing on our 8x tables, practising counting in 8s, using times table facts and even division facts.
In English we have begun to look at the story of Hansel and Gretel, preparing to write our own 'beating the baddie' story in a couple of weeks. We have become familar with different versions of the tale and have used story mapping techniques to help us remember it.
During our kinetic letter sessions we have been working on the slider family which includes the letters l,t,i and u.
We can now tell you about the different uses of rivers around the world and why they are so important!
Our star of the week is Ashley. Ashley has consistently been getting 10 out of 10 on her spellings since the beginning of year 3 which is fantastic, as you know the spellings can be tricky and Ashley has worked really hard to learn them each week. She has also been very focused during English producing some lovely work. Well Done Ashley!
I hope all of the children that came to the Disco on friday had a 'boogie liscous' time!
Spellings for Monday are a recap of the the suffixes we have been looking at so far -
Bedding
Running
Section
Fiction
Symbol
Pyramid
Dearly
Equally
Culture
Departure
Some of our favourite things this week...
Fri 22nd September 2017
We have been very busy this week, as a class we discussed what our favourite things about this week were...
'I enjoyed Maths it was really fun' Ethan
In Maths this week we have used our place value knowledge to work out some mental addition sums, we also used this to solve some tricky word problems with a partner.
'My favourite part about this week was Literacy, writing a scary setting' Tawny
During our English lessons we have been focusing on setting descriptions, one of which was the wild wood from wind in the willows. We had to try and include repetition to add suspense! We also did our first 'hot write' of KS2, writing a character and setting description using what we have learnt so far.
'The best part was topic' Ruby M
Our water based topic focused on marine animals and their habitiats this week as well as introducing the water cycle. Hopefully we can now tell you what precipitation and evaporation mean!
'THE ENORMOUS TURNIP' everyone
As part of our Harvest service we performed the re-telling of the enormous turnip. This needed a few run throughs of the story as well as making some turnips one afternoon. Thank you to any Herons parents who joined us for the service in church, I hope you'll agree we smashed it!
Well done to Ethan this week who received our star of the week award, Ethan has been working super hard in his Maths and is always ready to learn.
This week also contained a very demographic vote to conclude our school council reps.This year we have Ashley and Patrick representing Herons class.
Looking forward to our trip to Barnwell next week!
Monday to Sports Day!
Fri 22nd June 2018
During Maths we have looked at the properties of 2D and 3D shapes, we investigated vertices, edges and faces and some of us solved some tricky reasoning problems!
In English we have finished our shared writing ready to write our own recounts next week.
Well done to all of Herons for your effort and enthusiasm at sports day! You all should be really proud - thank you to grown ups for supporting!
A special well done to Tawny, our star of the week! Tawny has been producing some lovely writing and has been a really good friend.
Spellings for Monday
1. Eight
2. Eighth
3. Busy
4. Business
5. Know
6.Knowledge
7. Possess
8.Possession
9. Occasion
10.Occasionally
A Wonderful Start To Our Final Half Term
Sat 9th June 2018
This week we have begun a unit of work on geometry. The children can now distinguish between clockwise and anti clockwise, which has helped them when looking at direction, turns and angles! Towards the end of the week we looked at three types of angles (right, acute and obtuse) and some of us even measured these using a protractor!
In English we have started looking at recounts and diary entries, we will looking at the features of these in more detail and begin to write our own.
During topic we compared the lives of William Caxton and Tim Berners Lee as well as completing some science with Mrs Brickwood.
Ruby D was our star of the week this week due to her fantastic kinetic letters and behavior in class so well done Ruby!
Spellings for Monday:
1.Medicine
2. Natural
3. Naughty
4. Notice
5. Opposite
6. Particular
7. Popular
8. Position
9. Torture
10.Photosynthesis
Telling The Time!
Sat 19th May 2018
In Maths this week we have been learning to.....tell the time!! Some of us can now tell the time to the nearest 5 or minute! We have also been looking at analogue and digital time, as well as using am and pm where appropriate. This is a tricky unit and any practise at home would be so useful.

In English we have been writing newspaper articles about the royal wedding. This has been tricky as we have had to change all our information into the past tense, as the wedding hasn't happened yet! I have been really impressed with the class trying to make sure they include all of the grammatical features we have been looking at. We also enjoyed the royal picnic on Thursday!

During topic lessons heron's class have produced some posters from research about 1950s Britain to explain what life was like in this period. We have had a little look at pollination and fertilisation of plants and have tried to use some very scientific plant vocabulary.

A huge well done to Erin our star of the week this week! Erin has worked really hard in English and has produced some fantastic writing!

Spellings for Monday (Homophones - again)
not
knot
no
know
here
hear
medal
meddle
mail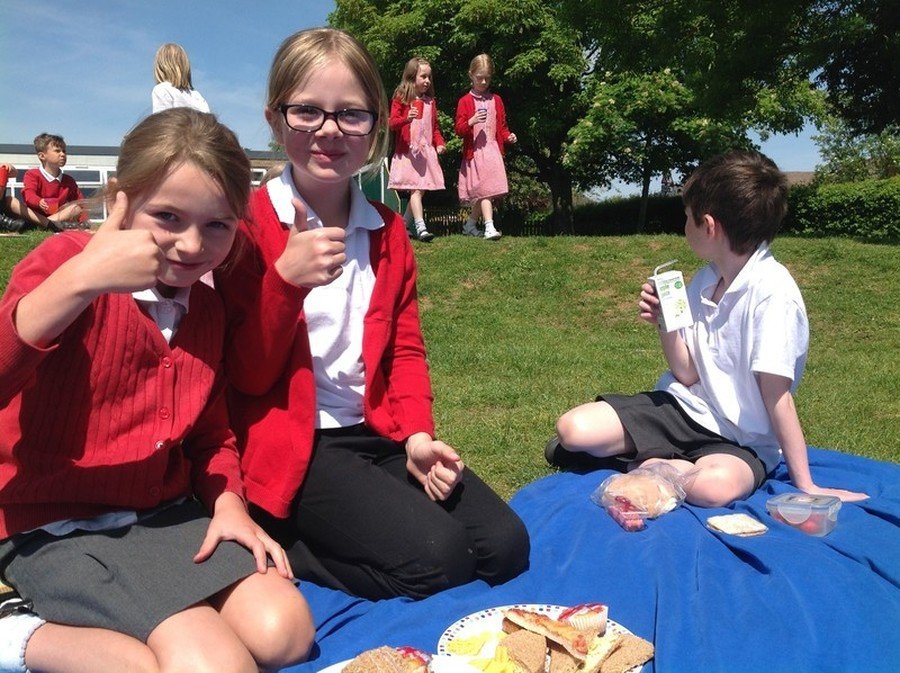 A midweek treat!
Thu 3rd May 2018
We were fantasically lucky this week! On Wednesday we went into the hall with KS2 to experience an interactive brass concert put on especially for us by musical professionals; the children loved it and some even had a go at playing the hosepipe! Please let the school know if your child is interested in playing an instrument next year.
In Maths we had a look at adding and subtracting fractions with the same denominator - we got pretty good at these so used this knowledge to solve fraction word problems! Next week we will be looking at time, which I hope is something that can be discussed at home too, so the children get to have a go at telling the time more often.
During English we have spent some time editing and improving and then publishing our letters to Mrs LaRue all about our escape from obedience school!
In Topic we now know all about the telegram and the invention of Morse code (invented by Samuel Morse!) and have had a go and decoding the code and writing our own codes.
A huge well done to Ruby M this week who is Herons star of the week! Ruby has put in a lot of effort this week in English, Maths and Topic and has also got her 3, 4s and 8s after lots of attempts - great perseverance!
Have an amazing bank holiday weekend!
Spellings for Tues (homophones)
Bury
Berry
Brake
Break
Fair
Fare
Great
Grate
Groan
Grown
A stunning week!
Thu 19th April 2018
We were welcomed back to school with some stunning weather and a stunning start to our learning!
Our topic this term is called 'Have you Heard?' which is all about communication and changes over time. We launched the topic with a carousel activity, going round the KS2 classes. With me the children made a timeline all about Cadbury's chocolate bars, pop art with Mrs Meredith and foods over the years with Mrs Barnett. We have also collected different ways to communicate with each other and briefly looked at how Egyptians communicated through the use of hieroglyphics.
The pictures are of the children trying to crack the word their partner has written in hieroglyphics!
In Maths we have recapped our fraction learning form last term and have begun investigating equivalent fractions - this will continue next week. In English we are beginning a unit of work focusing on letter writing. Over the past few days we have familiarised ourselves with the story 'Dear Mrs LaRue Letters From Obedience School' (featuring a cheeky dog name Ike!) to help us with this.
Congratulations to Asa our star of the week, Asa has come back to school ready to learn and is very engagaed with our topic work so far. Well done Asa!
Spellings for Monday (sound like 'ai' ey, ei or eig)
Prey
Obey
Survey
Convey
Rein
Reindeer
Veil
Sleigh
Reign
Freight
An introduction to fractions!!!
Fri 23rd March 2018
In our Maths lessons we have begun to look at fractions, and recapped on our learning of unit and non-unit fractions from year 2. We have found fractions of shapes and have counted up and down in tenths. Lots more of this to come!
In English we have drafted our final version of our journey/adventure story and have written these up using everything we have learnt in this unit; some of us even had a go at using a blue biro (very exciting) to edit and add new vocabulary to our work.
In topic and computing we had fun at using the website Kahoot and joined in with an interactive quiz all about fossils.
We have also been exercising lots, taking part in sports relief! We ran lots of laps around the field and completed a tough circuit in the hall. As a class we exercised altogether for 546 minutes which is super!
Well done to Aella who is our star of the week! Her positive attitude and effort is really paying off in English and Kinetic Letters. Keep up the good work!
Also a fantastic well done to all the children who have brought in homework to show at the exhibition - some super exhibits!!!!!!
Spellings that will be tested on Monday (Subordinate Conjunctions)
If
Until
After
Before
Because
Since
Provided
Unless
Though
Although
Hardworking Herons
Fri 9th March 2018
The adjacent pictures are some highlights of world book day last week!
This week herons have been doing some assessments in Maths and English and have been working extremely hard so well done!
Aside from this we have been continuing with our measures work in Maths, we have begun to add and subtract different lengths of tall bulidings around the world as well as measuring ourselves and our partner! Next week we will use what we have learnt to help us with perimeter.
We have had fun in topic by experimenting with rocks, predicting and testing if they were permeable or impermeable with Mrs Elliot as well as pretending to be either Neil Armstrong, Michael Collins or Edwin Aldrin and wrote a diary entry of the moon landing in 1969.
Congratulations to our star of the week this week, Ollie. Ollie has been growing in confidence since the beginning of year 3 as well as working hard in all lessons. Well done Ollie, keep it up!
Spellings for THIS Monday:
Heart
History
Imagine
Important
Interest
Learn
Length
Library
January
Metamorphic
Sundials and Statistics
Sun 25th February 2018
In our Maths lessons this week we have finished looking at statistics and data handling methods, such as tables, tally charts and bar charts. We came up with our own space themed survey and drew a bar chart as well as using the charts to answer questions.
During English we have begun our work on The Hodgeheg, a story by Dick King Smith, we will be using this as inspiration to write our own adventure stories and focus on some grammar features over the next few weeks.
In Topic we have designed, made, tested and evaluated our very own sundials! Some of us even had a go at using a protractor to measure the angles between each segment!
Well done to Oliver W this week who is Herons star of the week. Oliver has made a real effort to ensure he is following our school rules as well as working hard in English!
Just to remind you about world book day on Thursday next week, if possible we would love your child to bring in a picture of them reading in an unusual place that we can use as part of a display. Thank you.
Spellings for Monday 26th Feb (sion endings)
Mansion
Division
Revision
Decision
Confusion
Tension
Extension
Explosion
Illusion
Intrusion
Money Money Money
Fri 2nd February 2018
Our Maths focus this week has been all about money! All of us can now recognise coins and notes from 1p to £50 and using them to find different ways of making amounts. We can also add and subtract amounts of money so that we can work out how much change (if any!) we will get when we go to the shops.
During English we have been continuing with our Dick Whittington Biographies and have found out lots about him to write whilst investigating the structure of Biographies futher.
We have also investigated and explained how we have night and day by pretending to be the earth roating round the sun, we now know that whichever side of the world is facing the sun will be day and whichever side isn't will be night.
Congratulations to our star of the week, the wonderful Erin! She has been working really hard in our Maths lessons this week, contributing some fantastic ideas as well as having such a positive attitude towards learning!
Spellings for Monday are French words, spelt ch that sound like sh
Chef
Chalet
Chute
Parachute
Machine
Brochure
Moustache
Champagne
Chandelier
Quiche
A wonderful week of learning!
Fri 19th January 2018
Very proud of Herons efforts this week, perservering with some tricky maths and perfromance poetry.
During our Maths lessons we have been working towards written methods for multiplication and exploring some different ways of dividing, using the part whole model and lolly sticks!
In English he have written and performed our own poems based on the Poem 'If all the Seas'. The children had some really lovely ideas based around the theme Space.
During our topic lessons we have been classifying together the planets using categories of our choice and leanirng abit more about the telescope.
We have finally finished all of the kinetic letters which will will continue to practice in all of our writing.
A big well done to Angus this week, our star of the week, for all of his efforts in Maths, Topic and English - producing a fantatsic poem!
Spellings for Monday
Invention
Injection
Action
Completion
Hesitation
Discussion
Aggression
Permission
Passion
Musician
A Stunning Start to Space
Fri 5th January 2018
Although we have only been back in Year 3 for 2 days we have been very busy.
As part of our stunning start on Thursday, Atomic Tom and Cosmic Chris came into our assembly and classroom to introduce us to the forces linked with our Out of This World topic. We can now tell you a little bit about gravity, magnetism, friction and air resistance. From the photos you can see we had fun in the process!
We then had a little look at all the planets in our solar system and sketched one that we liked. Then we created some beautiful artwork for our classroom display using either chalk or oil pastel depending on which planet we wanted to replicate.
On Friday the whole of KS2 enjoyed (inlcuding teachers!) a carousel activity where we created a fact file for an alien, made some origarmi stars in groups or produced some space poetry!
Apologies for any messy faces or jumpers from all the art this week! Back to normal next week, with spellings set and homework given out. PE will also resume as normal from Monday so please make sure kit is back in school by then.
Wishing you all a happy new year and a wonderful weekend.
Miss Snook
Christmas is Coming!
Fri 15th December 2017
After an extra long weekend in the snow we had some catching up to do!
In Maths we used what we know about place value, addition and subtraction to work out some word problems and finding the difference problems.
In our final lessons of our English narrative unit, Hansel and Gretel, we have finally drafted and completed our own versions of the story - which I will enjoy reading, some super hard work took place during this time so well done Herons!
We have been feeling very festive towards the end of the week, enjoying the KS1 performance, having christmas dinner and making christmas cards.
Our star of the week was Beth this week. Beth has produced a superb story titled 'Evil Chicken Lady Vs Nelly and Jed' which has been a delight to read. Beth is also a kind and caring friend and always does her best to make people smile so well done Beth.
Last ever spelling test of 2017 on Monday, a list of prepositions -
Around
Outside
Inside
Beside
Behind
Towards
Through
Underneath
Beneath
Opposite
3, 4, 8 Herons
Sun 3rd December 2017
In Maths this week we have been very busy recapping our 3, 4 and 8 times tables. Some of enjoyed using Reggae Beatz to get these into our heads!
In English we have started to draft out our own versions of Hansel and Gretel, thinking about how we could create our own characters and thinking about lots of different language features, as well as trying to use our kinetic letters. We have nearly completed the families and have worked really hard this week on the slider family.
Our star of the week is Madelyn. Madelyn always tries her best, particularly this week with her times tables and beautiful handwriting! It is lovely to have her in the class. Well done Madelyn.
Looking forward to seeing as many of you as possible at the recorder concert on Friday at 11.10am.
Spellings for Monday are a recap of the prefixes we have looked at in Year 3 -
Disobey
Misspell
Impossible
International
Supermarket
Disallowed
Misheard
Impatient
Interactive
Superhuman
Herons are flying...
Fri 6th October 2017
In Maths this week we have been flying through some column addition questions and word problems, making sure that we are really confident using the method. We have also briefly had a look at our 4s and 8s times tables which you can practise at home!
During our English lessons we have been focusing on features of narratives such as, dilemmas and speech and have begun our own. These were inspired by our class book, Wind in the Willows. Friday was busy using everything we have done so far to write our narratives in a 'hot write' so well done year 3!
In French with Mrs Brickwood we have made our own postcards and have written them in French - these will be sent to a penpal from a school in France!
Well done this week to Patrick who is our star of the week. Partrick is always so encourgaing and respectful of others in our class and has been working particularly hard during Maths.
An amazing week as Herons
Fri 29th September 2017
This week has been very exciting. As part of our topic we went on a trip to Barnwell Lake near Oundle. We learnt lots about rivers and we should be able to tell you all about meandering, erosion and the source of the river Nene! I am particularly proud of Herons this week for being so mature and well behaved even though we couldn't all go to Barnwell on the same day - so well done!
In English we have been writing a recount of our trip, as well as looking into features of narratives. Maths has been tricky; we have moved on from mental addition and started to use the colomn method to solve addition problems. Some of us have begun to carry over numbers, so our hundreds, tens and ones knowledge has been essential!
We are also very lucky to have NMAPAT join us to practise playing the recorder for a performance in December. We had our first session this week; the children were able to play an A and a B note by the end of the hour!
Special well done to Alex, our star of the week this week. Alex wrote a wonderful recount about Barnwell and worked really hard in Maths!
See you all next week.
A Windy Week in Herons
Fri 15th September 2017
This week has been a windy one - and not just because of the weather!
In English Herons have been focusing on descriptions using the story of Wind in the Willows as inspiration. The class have written some fantastic similes and metaphors as well as using alliteration within their descriptions. Using the characters from the story the class came up with some interview questions and some brave children took to the stage - WELL DONE!!
Maths has been busy too, with ordering 3 digit number lines on a number line and comparing them. The children have begun to count in 4s and 8s which will enable them to learn their 4 and 8 timetable very soon!
We can also tell you all about the five Oceans of the world and where they are located!!
Our star of the week this week was Taylor; she wrote a beautiful river description. Shout out to Nathan who was our star of the week from last week for being super helpful.
See you all next week!
Our first week of being Herons!
Fri 8th September 2017
Welcome to KS2!
This week has been very busy and exciting for Herons and I am very pleased with how the class have begun to settle in to their new classroom.
On Tuesday the class were introduced to thier topic 'Go with the flow'. In the morning we used some wax crayons to create some clever looking artworks which look lovely on our windows. In the afternoon the children got involved with many water based activities such as water balloon throwing, boat racing and a water cup relay! All of which the children thoroughly enjoyed!
In Maths we have looked at place value and partitioning.
Looking forward to next week!