Wrens 2018-19


Mrs Carter, Mrs Crouch, Mrs Murphy & Miss Elliott





Welcome back!




Friday 11th January
We've had such a positive start to the new term! It really is good to be back. We hope you've all had a lovely break over Christmas. All the adults in Wren's would like to thank parents for the lovely gifts we received.
To launch our new topic 'I Believe' (Stories and lessons from the Bible) we've been reading the story of Creation this week and ordering the events that took place. To link to God making the land and sea on the third day, we've had a Science focus and explored different plants and what they need to grow. Earlier in the week, the children took clipboards outside and made some observational drawings of plants and trees and labelled different parts of a plant. Some helped Mrs Crouch to pot some pansies whilst others studied their petals and leaves through magnifying glasses.
To retell the Creation story, children have developed some story maps with drawings, in order of the days, and have practised writing a few key words. We also created some story bands using 5 coloured beads on a bracelet to help us retell the story. Each coloured bead represented a different part of the story: characters, the setting, the beginning, middle and end.
Our Maths focus has been to use ordinal numbers to sequence the days in the story and we've learnt the days of the week in a form of a song.
Every afternoon, during our handwriting session, we've been encouraging the children to strengthen their fingers to make them super writers by completing a range of fine motor activities.
Today, Wrens planted their own bean seed to look after over the next few weeks. Whose beanstalk will reach the castle in the cloud first? Whose will be the tallest?
Congratulations to Esme who is our Star Performer this week. Esme has made a really conscious effort with her learning and has blown us away with her sounds and writing. She is really focused when she does her activities in class and always tries her best! And she's been helpful around the classroom too.
All reading books will be changed on a Monday from now on and then we'll stagger reading with each child throughout the week, Please do make sure books and reading records are in bags daily and do record any reading that takes place at home. Most children have started to learn phase 3 sounds now but please do continue to practise blending words from the booklets I sent home before Christmas. (cv and cvc words)
Next week, our focus story from the Bible will be Noah's Ark – we're going to be learning about animals, counting in 2's, mixing colours to create rainbows, adding groups of animals and building an Ark as Carpenters!

Have wonderful weekends!
Away in a manger.


Friday 14th December
It's difficult to put into words how proud we are of all Wren's have achieved in their first term of school. They have grown in so much confidence and are becoming more responsible and independent. They really have worked their little socks off!
This week has been extra special because it began with our Nativity play. Didn't they do well to perform to two big audiences?! It really is a huge achievement for them.
For the remainder of the week, the children got creative and imaginative and we captured some lovely moments. They built and decorated a large Christmas tree from the blocks outside and also built a sleigh, using bells to act out a Christmas narrative. They printed with metallic paint, made decorations and paper chains, continued to write lists for Santa, including 'nice' lists, wrote cards to each other and created a Christmas tree scene using and naming 2D shapes.
Congratulations to Isabel who is our Star performer this week, although Isabel consistently stands out for being ready to learn, patient and very hard working. Eloise also tried school meals this week and really enjoyed them! Di in the kitchen awarded her for having the courage to try something new.
Today we joined the children in the lunch hall for Christmas lunch and then Santa popped in for a quick chat. He wanted to check that we'd been looking after things in the classroom and continuing with our good behaviour.
We tested the children on their phase 2 sounds, tricky and high frequency words this week and have included a word bank in book bags, so children can consolidate their blending skills at home and over the Christmas period. Do keep revisiting the words when you can.
To continue our 'I Believe topic' in the New Year, we'll be studying a selection of Bible stories, starting off with the story of Creation in the first week back. We'll be talking about new beginnings and learning the days of the week and doing a little bit of science in learning about the life cycle of a plant.
Don't forget that on Monday we have our carol service in church in the morning and on Tuesday, a Jack and the Beanstalk pantomime!
Wishing you all a wonderful Christmas and a very Happy New year.
The Christmas countdown begins.




Friday 7th December
It's been a really magical week in Wrens. The countdown to Christmas has begun and we're all feeling very excited. We decorated our a Christmas tree with 2D shape baubles and matched up some labels to our 3D shaped presents underneath. We discussed their properties – how many sides, corners, edges and faces they have.
Mrs Elliott Introduced 'advent' as the arrival of something or someone. She explained that the 4 weeks leading up to Christmas are called advent, when Christians wait and prepare for celebrating the birth of Jesus. The class learnt some very important facts and created an advent wreath (a circle to show that God lasts forever). They learnt that the 4 candles around the wreath are lit each Sunday leading up to Christmas, with the 5th being lit on Christmas day. They discussed that the Crib scene serves as a reminder of the Christmas story and they began to understand why Christians use Advent calendars - to count down the days until Jesus' birth.
We've been practising our tricky and high frequency words and going on hunts around the classroom for them. Sometimes the words have been so tiny that we've had to use magnifying glasses to read them!

Our creative skills have been tested this week- we've been making small wreath decorations for the Christmas Fair. It was a tricky task to wrap the pipe cleaners around a doughnut ring, but the children persevered with this fine motor activity.

Di and Tina in the kitchen helped us to create our own gingerbread cookies too, in the kitchen. They sent us the recipe which we studied in class and then we weighed out the ingredients. We are so grateful for the time they spent with us and for inspiring our learning.
A huge congratulations to Sofia who is our star performer this week because she's 'just that'! A star on the stage; learning 10 lines for our Nativity play and remembering when to speak them too. All the Wren's have worked really hard in our rehearsals and we can't wait to perform it to you next Tuesday. We'll be doing a dress rehearsal to the rest of the school on Monday so please bring in any additional costume pieces you'd like to include.

Guess who got in touch this week?! Only Father Christmas! He sent Wrens a video message asking them to get in touch so we've been very busy letter writing.
Next week, we'll be having an RE focus and learning why we perform a Nativity play at Christmas time, connecting the baby Jesus with the adult Jesus and looking at a copy of the Bible ready to learn some bibles stories after the Christmas holiday.
Have festive weekends!
Baptisms, babies and balancing scales




Friday 30th November
Wren's have learnt all about Christenings this week and preparing for a new baby in the family. They've loved this topic as many of them enjoy role-playing as Mums and Dads.

Miss Elliot talked to the children about how a community might welcome a new baby into the church and discussed what gifts we might give to a baby and their family. This linked with our learning of the Nativity story which the children have practised sequencing as a Maths and Literacy activity.

Further Maths this week has been inspired by the weighing of a new baby, so we've been using scales; comparing the weight of objects and using the language heavier, lighter and balanced. The children have been exploring the classroom for different objects to weigh and compare.
We've also been learning about capacity using some bottles and jugs in the water tray, identifying whether they are full, nearly full, half full, nearly full or empty. We'll come back to this topic later but you can extend their learning at home by asking children at meal or bath times how full their cups or baths are.
Congratulations to Kiara who is our Star Performer this week. Kiara has learnt so many of her sounds and her letter formation and handwriting has blown us away! She writes so carefully and neatly and is really proud of her achievements, as are we.

We've included a bookmark in children's reading records today with the tricky words we'd like them to practise reading on sight. Next week we're going to test the children on reading some of the high frequency words too. You have a copy in your individual packs but I've added them here too. Please practise the first column with your child so that we can test towards the end of next week. If your child knows more – then great, they can learn more from the second column and so on.

December is here so it's time to get Christmassy! Next week, our Maths focus will be 2D and 3D shapes (in the form of wrapped up presents under the Christmas tree!) and we'll be writing a Christmas wish list for Father Christmas! Be sure to stick around after school next Friday for our Christmas Fayre as I hear he's paying a visit! We'll be doing some work on Advent too and recognising numbers in random order.

Please make sure that children bring in their reading books and reading records every day so that we can read with them and record it. Also so we can change their books weekly and add different reading lists when needed. Thank you.

Have wonderful weekends!
Get me to the church on time! (And words that rhyme)


Friday 23rd November
We've had a really creative and fun week, all inspired by The Scarecrows' Wedding. We've learnt about rhyming words and have been retelling the story by making actions. We've followed this up by drawing a story map to sequence it – a skill that we're starting to teach. The children draw symbols to represent characters, items and actions. Once the children have drawn their symbols, we ask them to retell the story by reading their pictures in order.
Watch Pie Corbett tell the story of The Little Red Hen: https://www.youtube.com/watch?v=JdvJZD-cplg&safe=true

Wrens enjoyed decorating biscuits to represent the characters in the story (Betty and Harry) and some made puppets by selecting different materials to represent their clothes and hair.
The story gave us a great opportunity to look at a list of items needed for a wedding. We practised counting objects in a group and modeled adding one more of each item to the groups. We asked 'What is one more?' and used a number line and Numicon to help us add. (Numicon is a fantastic Maths resource – a different coloured piece to represent each number. It's really helping the children to visualise the value of numbers and is really helpful in adding and subtracting)

On Tuesday Miss Elliott discussed Christian places of worship and talked about the cross being a symbol of Christianity. The children role-played being inside a church by singing, praying, listening to stories, reading from the Bible, getting Christened and getting married. Then they made some stained glass windows and some crosses by tying wool around twigs.
We've been consolidating the 'Jumper' family in our Kinetic letters sessions in the afternoons and writing in our 'best' booklets.
Well done to Amelia this week for being our Star Performer. Amelia is so helpful and polite around school and tries really hard with her learning. We love her attitude!

Next week, we'll be learning about Christenings and babies! We'll be measuring in Maths, comparing different weights and looking at capacity.
Have a wonderful weekend. Wrap up!
Wrens plan a party!




Friday 16th November
With so many November and December birthdays, it's been quite a fitting time to learn about how and why we celebrate birthdays this week. The children have loved role-playing 'tea-parties', writing cards to each other, wrapping up presents and adding gift tags. We've practised so many of our fine-motor skills! Wren's planned their own party and wrote individual invitations to each other so today we had a class party and played some games!
On Tuesday Mrs Elliot shared the book 'Twig' by Aura Parker and discussed Heidi's feelings of loneliness. She asked the children what they could do to show care. Then each of the Wren's thought about words they could use to recognise special things about each other and made a very special friendship tree.
They also made some Heidi characters from twigs that we collected on Monday afternoon from the wooded area. This tied in with Anti-Bullying week and we discussed how being unkind with our hands and our words can make others feel but also how acts of kindness can make others feel.
In phonics we've been putting the 5 tricky words we've learnt into sentences and have sounded and blended some words with the special friends 'c' and 'k' who work together in words like duck and black.
In handwriting we've learnt to write the whole of the jumper family (h, b, r, m, n and p) and the children have done so well in remembering the rhymes and starting points of the letters. Please let me know if you'd like to order any Kinetic Letters cards with all the rhymes printed on them.
A big well done to Eliza for earning her Star Performer certificate this week! Eliza is so focused in her learning and always tries her very best. We love how creative she is and how she perseveres with everything she does. She is also a caring and helpful friend to others and we're really proud of her.

Next week, the focus is weddings - the celebration of love! More chances to write place names and menus, count flowers in bouquets, order numbered bunting…and wrap up presents! The children really have loved that challenge! We'll have a focus book - The Scarecrow's Wedding by Julia Donaldson.
Have a great weekend.
Tissues at the ready for Children in Need tonight!
Celebrating Diwali and commemorating Remembrance Day


Friday 9th November
It's been a very busy week as usual, learning about two very special events. The first half of the week, we focused on Diwali and read the story of Rama and Sita. The children role-played in some costumes and then we each made and decorated clay diva lamps which we lit whilst thinking about all the good things in our lives. The children have been making their own beautifully decorated rangoli patterns too – in rice and on paper. The second half of the week focused on Remembrance and we talked about how we now remember soldiers who fought for our country and how poppies grew in the fields once the fighting was over. We each made a poppy for our Remembrance garden and some children made wreaths and little wooden airplanes.

Our phonics groups are doing really well. We're practising our sounding and blending skills and learning the 5 tricky words on sight. I've been writing out some short sentences and the children have been spotting the tricky words in them and discussing the letters and sounds that they know and noticing rhyming words too.
In Maths, we've been counting objects and thinking of the correct numeral to represent our answer. This is sometimes quite tricky for the children as numerals to 10 out of sequence can throw them, so we've been recognising the numerals 6-10 out of order to secure our knowledge.
The Post Office has been a huge hit! Letters and cards have been written in abundance and posted in the postbox and packages wrapped up and tagged. There have been daily postmen and women emptying the post box and taking the mail to the post office in a large hessian sack.
We've spent some time on our new running track. The children have loved challenging themselves to keep going until they've completed a whole lap, even though they're tired.
Well done to Betty for being our Star Performer this week! Betty is a wonderful role model to us all and has impressed us with her learning and creativity this week, on top of being a wonderful friend and being extremely polite. She always perseveres and tries her very best.
Next week, we'll be learning about Birthdays and Anniversaries so calendars will come in to play for Maths and we'll learn to sequence the months of the year – and talk about some very special dates – our birthdays! It's also Anti-Bullying week so we'll be discussing what we like and admire about each other and undertaking acts of kindness.
Have a wonderful weekend.
Lest we forget.
I believe...


Friday 2nd November 2018
…that Wrens have made a fantastic return! Once again, we've been blown away by how ready to learn our little Wrens are and how well they're adjusting to school life and adapting to our routines.
In the mornings as they practise writing their names, we're amazed by the new pencil grips most of them are adopting and how carefully they form their letters.
Up until Christmas now, our new topic 'I believe' will focus on celebrations and festivals. That's birthdays, weddings, anniversaries, christenings, Bonfire night, Diwali, Remembrance, Christmas and everything in between. It's a really good opportunity for us to write as we often send cards for many of these occasions. The role play shed outside has transformed into a working Post Office and inside the classroom we have a postbox so please do help the children to write out some cards at home that they can post.
This week, we've discussed the celebration of Bonfire night and how to keep safe at this time of year, around fireworks. Mrs Elliott helped us to understand the importance of keeping our pets indoors and looking after them. We've been very creative in class, making rockets from junk modelling and printing and drawing fireworks whilst discussing their colours and the sounds they make. And some children have role-played building platforms to launch fireworks from outside!
In Phonics we've been recapping our Phase 2 sounds and blending some simple cv and cvc words. The children are now in groups so they're getting more focussed inputs. In Maths we've been ordering numbers to 10 and matching up their corresponding values, with spots on dice. We've also been counting backwards, from 10 to 0 (blast-off!) And in our handwriting sessions we've been practising writing numbers 0-5. In P.E today we practised some guided dance. It involved creating big actions as we pretended to get dressed up nice and warm to attend a fireworks display. We then imagined we were kicking and throwing Autumn leaves and hunted around for some sticks to build a big bonfire.
A huge congratulations goes to Arthur Knight for being our Star Performer this week. Arthur stands out for his incredible enthusiasm to learn, his impeccable manners and for being a fantastic role model in demonstrating our school values. He always wears a big smile and is so friendly and kind too.

Next week, we'll be learning about Diwali and Remembrance day.
Enjoy the fireworks this weekend and stay safe!
Our first half term!
Friday 19th October 2018
This week, we've been learning about growing up and talking about the stages of life; starting out as a baby, growing into a toddler, then into a child, a teenager and then an adult. We've also looked into the transformation of a caterpillar into a butterfly. We asked the children what they might like to be when they're grown up and many of them have considered becoming vets and firefighters. (A couple of power rangers and mermaids too of course!)
We've discussed how our bodies grow in length and height and have measured each other against the wall in the playground. We've also been measuring objects around the classroom and recording our answers in charts. The unfix has been a fun resource to measure with and some children have competed to build the tallest tower! We've been comparing and ordering different length caterpillars and we found out from a fiction book that the blue whale is 30 metres long! We then read A Snail and a Whale and compared the sizes of whales to snails - using our very own pet snail Rainbow and some metre sticks.
Handwriting is really starting to improve, as we continue to work on our pencil grips daily. We've been learning to write numbers this week and some of the letters we've been learning in phonics; s, a, t, p, i, n.
On Tuesday we did some yoga with Mrs Elliott and she helped us to understand how we can stay healthy and look after our bodies. We classified food into healthy and unhealthy groups.
In an Assembly on Wednesday, Mrs Marsh helped us to recognise signs in our body which help tell us we're feeling 'unsafe'. We talked about different scenarios at home, at school and 'out and about' and discussed how to remain safe in all situations. We then took our thoughts back to the classroom and designed some posters to help remind others.

This week, the green house won in Wren's so their treat was to play Buried Treasure on laptops this afternoon. It's a great phonics game that we've been using at the end of our phonics lessons to consolidate our learning.
Congratulations to Gabriel who is our Star Performer this week. He is an excellent role model who has been noticed throughout the school by adults and peers. He has wonderful manners too and really deserved to be recognised.
Where has the time gone? We're so proud of our little Wrens and how much they've achieved this half term. We'll see you back on Tuesday 30th October.
Caring and sharing!
Friday 12th October 2018
This week we've been learning about our local community and how we can look after it. We've talked about people who work in our community and school and how a community brings us all together as a big family. We've used Google Earth to zoom into Greens Norton and have discussed important buildings in this village; the post office, the church, the doctor's surgery etc. We've also discussed recycling and how to care for our planet too. It was interesting that some of the children knew all about waste in our oceans and the animals, like turtles, which get caught in plastic.
In Maths the children have been doing lots of counting. We decorated gingerbread men with a specific number of buttons and used conkers to count out objects to 10. We've practised working in pairs to help us develop our communication and work cooperatively with others.
We've started to learn how to hold our pencils correctly for effective writing and have practised writing out some of our sounds. Please do practise the following sounds if you can! s,a,t,p.
On Tuesday afternoon, Mrs Elliott demonstrated how to share resources and work together in small teams. The children practised these skills by building jigsaws and playing board games – practising turn-taking.
We were so proud of the children's performance in the church on Wednesday for our Pop UK concert and were so impressed with the evening turnout. Thank you to all the parents who accompanied us on the walk to and from the church again!
A huge congratulations goes out to Oscar-Jay for being our first Wren to receive Star Performer! Oscar was nominated for his amazing attitude to learning and for being kind.
We've also had a friendly competition in class with our coloured house groups. Children earned marbles throughout the week and the winning team got to decorated biscuits this afternoon.
Next week, we're going to be learning about 'growing up' and different occupations. We'll be measuring in Maths and practising more of our sounds and handwriting. If any of our parents have interesting occupations and would like to come in to talk to our children about what you do, we'd love to hear from you, especially if you have to wear a special uniform!
A pop-tastic week of learning and singing!
Friday 5th October 2018
Another fun week has flown by and we're all feeling a bit more settled. The children have learnt where their individual carpet spaces are and have adjusted to new routines. We're so impressed by how many children come in each morning and practise writing their names and how many are so ready to learn!
This week, we've been back outside again in the woodland area, looking to see if more leaves have fallen and to practise mark-making and team-building. Reverend Ben paid us a visit too and read us a story from the bible. He was very funny and we loved listening to him. We've been learning all about our bodies and our emotions – discussing times when we feel happy, sad, angry and confused.
In Maths, we've been counting using some interactive Maths games online and recognising and matching numerals. The children have been working on laptops in pairs to count spots on ladybirds and buttons on gingerbread men. (Topmarks.co.uk)
On Wednesday and Thursday Curly Claire from Pop UK taught us all some songs to sing for our concert next week. It was so exciting that we've been rehearsing in the classroom and playing instruments alongside the songs!
Our topic work about our bodies has also proved to be very stimulating and we had doctors, nurses, surgeons and hygienists working around the clock to make sure patients were getting the right treatment!
We'd like to say a big thank you to the kitchen for cooking the most delicious meals! The clean plates and beaming smiles are proof of it! We have a fantastic number of children eating fresh hot food every day.
This morning we trialled our first P.E session in the hall. The children did a brilliant job of getting changed independently and organising their piles of clothes. They listened well to instructions for our traffic light game and lined up sensibly. We attended our first Celebration Assembly too and were awarded another certificate for 100% attendance! We can't wait to choose our first Wren next week for a special award!
Shapes and Scarecrows!
Friday 28th September
It's been a busy week in Wrens. We've been looking at 2D 'flat' shapes and 3D 'solid' shapes and identifying them around us. They've been popping up in the sand tray and around the outdoor area and we've even noticed them in our classroom in the form of light switches, tables, cupboard doors and windows! We've discovered that our planet is a 3D sphere shape, as well as the sun and moon! Have you seen the moon this week?! We've made some moonlit pictures of townscapes with some 2D shapes to represent buildings and a moon in the sky. Our discussion of the moon led to a spaceship being built outside with the blocks and some cylinder shaped tubes being used as telescopes. The children also built a racing car. They're so imaginative! Junk modelling has been very popular this week with all the 3D shaped packaging that we have in class. Please keep asking the children to spot shapes around them at home.
In preparation for our Harvest service in church, we produced some fantastic art work of fruits and vegetables. We used finger printing, vegetable stamps, chalk pastels and felts to decorate them. We've learnt all about Harvest and how our fruits and veg are grown. Mrs Elliott role-played with us on Tuesday how to 'give' food to people less fortunate so we knew why we were 'giving' in church today.
It's been a very active week – we've taken advantage of the sunny afternoons and got outside to practise climbing on the wall and across the Trim Trail to strengthen our arms and core. We've been practising our hula-hooping and throwing and catching skills too.
This morning in church we were so proud of the Wren's. They sat beautifully throughout the service and performed Dingle Dangle Scarecrow so confidently.
A big thank you to all the parents who walked down to the church with us today and carried some of our food.
Fish finger Friday was popular today. We've never seen so many clean plates and so many smiles! The children are so excited to be able to go out to play on 'the big playground' with the rest of the school. We joined the rest of the school on Thursday too for our first Assembly.
To conclude this week's learning, we decorated the playground to practise our mark making this afternoon. Shapes, numbers, letters, patterns and portraits all appeared! Next week, we'll be learning about our bodies and how we grow. We'll also learn how to manage some of our feelings too.
Have wonderful weekends!
Our first full week!
Saturday 22nd September
What a fantastic, fun-filled week we've had! We've been very busy in Wren's learning all our numbers to 10 and beyond and learning about the season of Autumn. Numbers have been popping up on blackboards and in sand trays as the children show us just how ready to learn they are. We've been practising some animal poses from Kinetic Letters too to strengthen our bodies for writing. (I will explain more about this in a parent meeting after half term.)
It's been very busy again in the mud kitchen and the house with children establishing new friendships groups. They've taken part in some creative activities too – making self-portraits with paper plates and practising their cutting skills.
We took an exploratory walk into our little wooded area and hunted for signs of Autumn yesterday and the children loved collecting different coloured leaves with different shaped edges. They then took wax rubbings from their leaves back inside the classroom. In the afternoon, we decorated a giant tree as we talked about the leaves beginning to fall from the trees.
We've been starting to discuss Harvest too and how thankful we are to the farmers for helping to grow our fruits and vegetables. Next week we'll be attending a church service to celebrate Harvest so please do talk to the children about different vegetables on their dinner plates.
Rainbow the snail had 'snack time' with the class this week and enjoyed some delicious mango! The children have really taken to her and will soon start to look after her themselves.

I can't iterate just how proud we feel of our little Wrens. We have talked about being responsible and safe this week and they are really showing us acts of responsibility – making sure felt pen lids are replaced, putting their rubbish in the bin, tidying up after themselves and stacking their wellies neatly.
We achieved a 100% attendance award for the first week of school too!
Next week, we'll be talking about our community and homes and incorporating some 2D and 3D shape learning into this by making houses and buildings and identifying shapes around us. If you have any spare recycling that you'd like to bring in for the children to do some junk modelling, it would be very much appreciated.
The children deserve a good rest this weekend. Well done Wrens!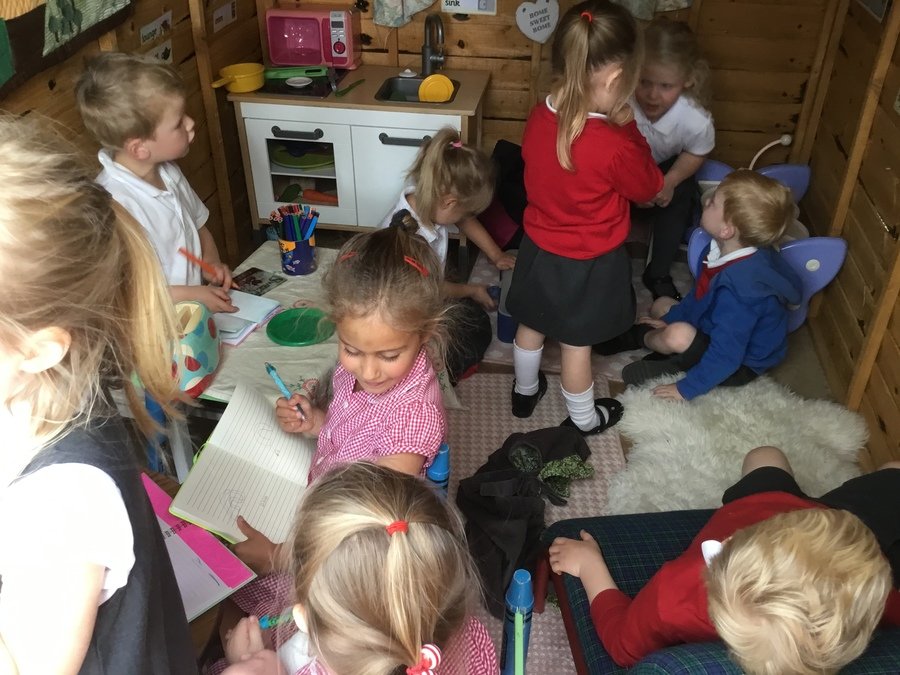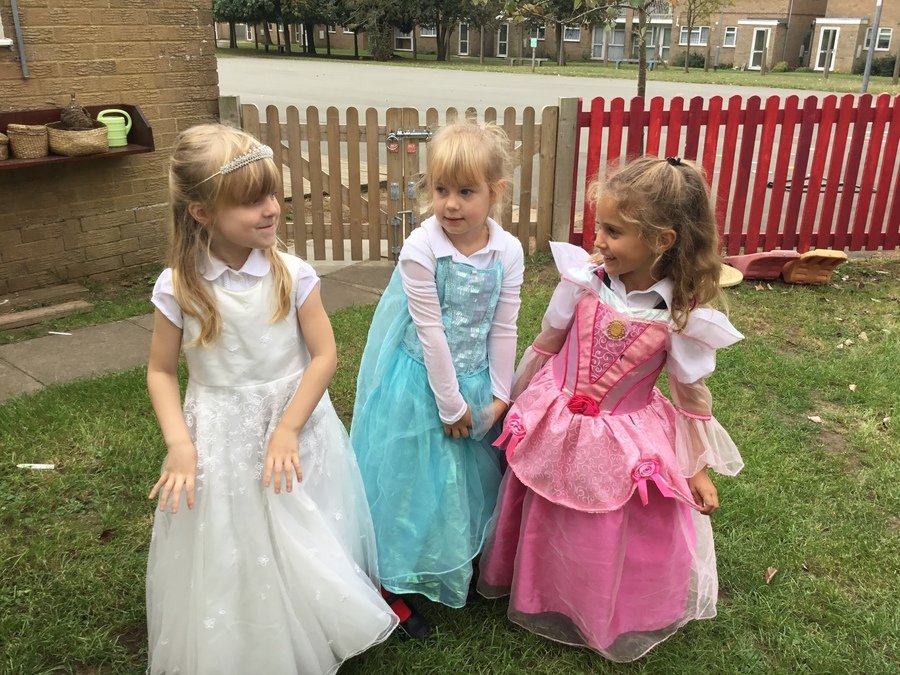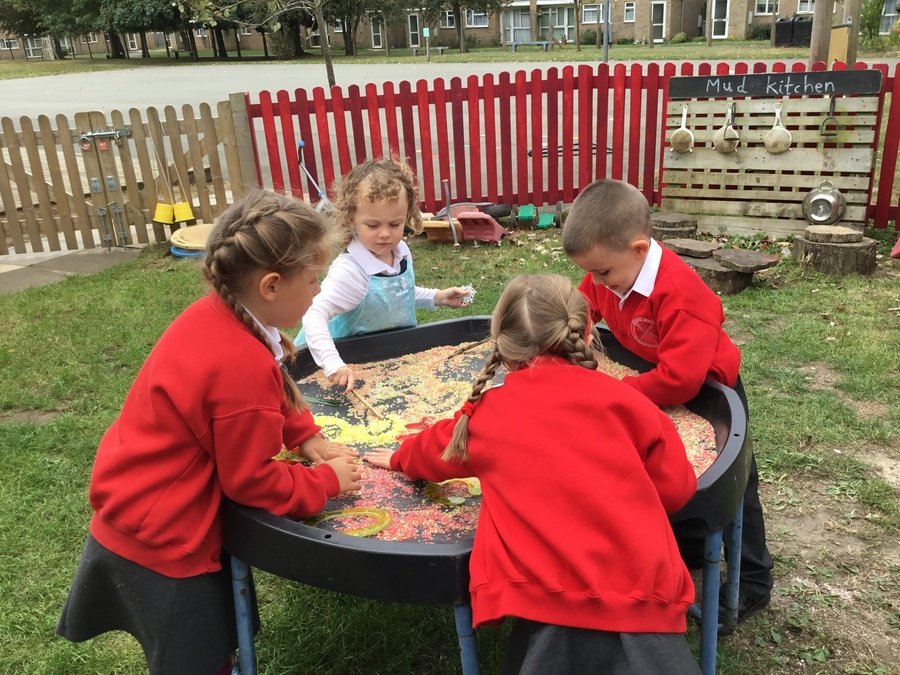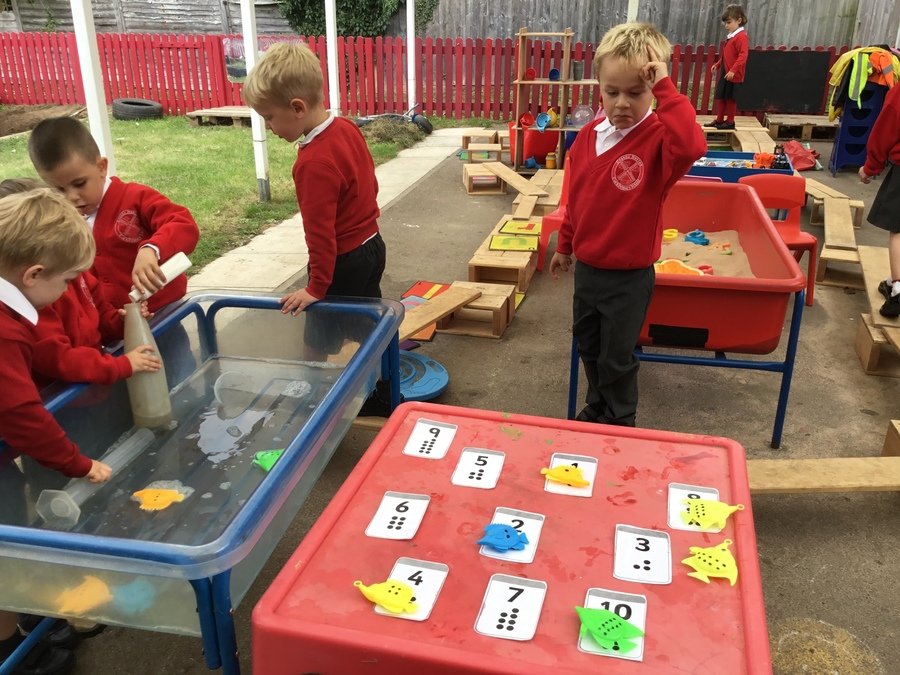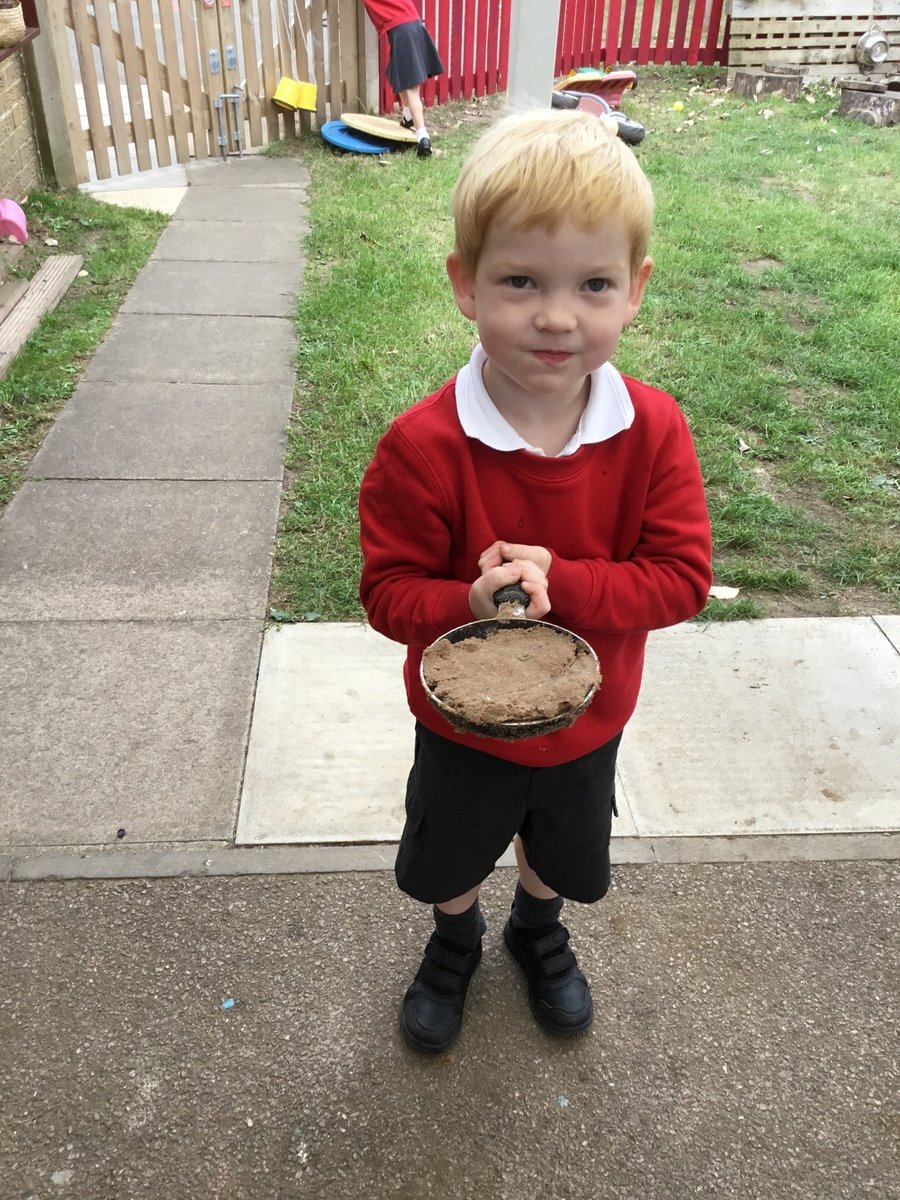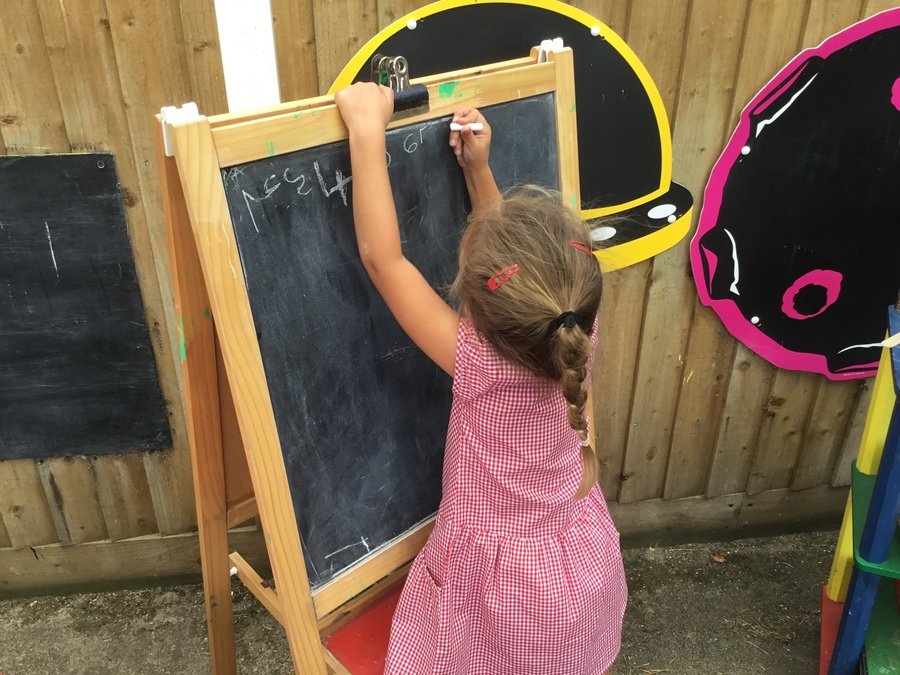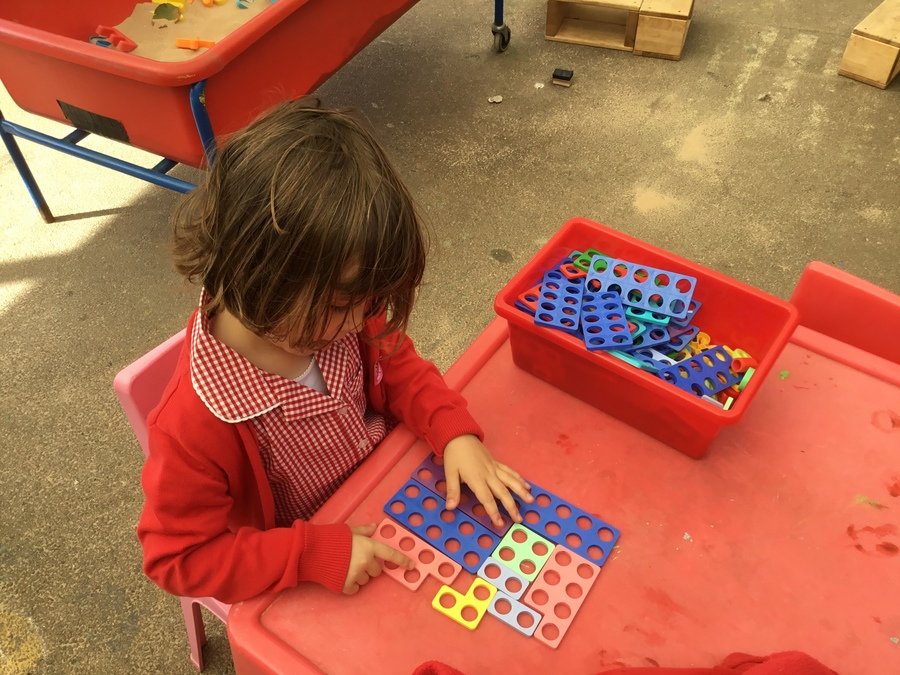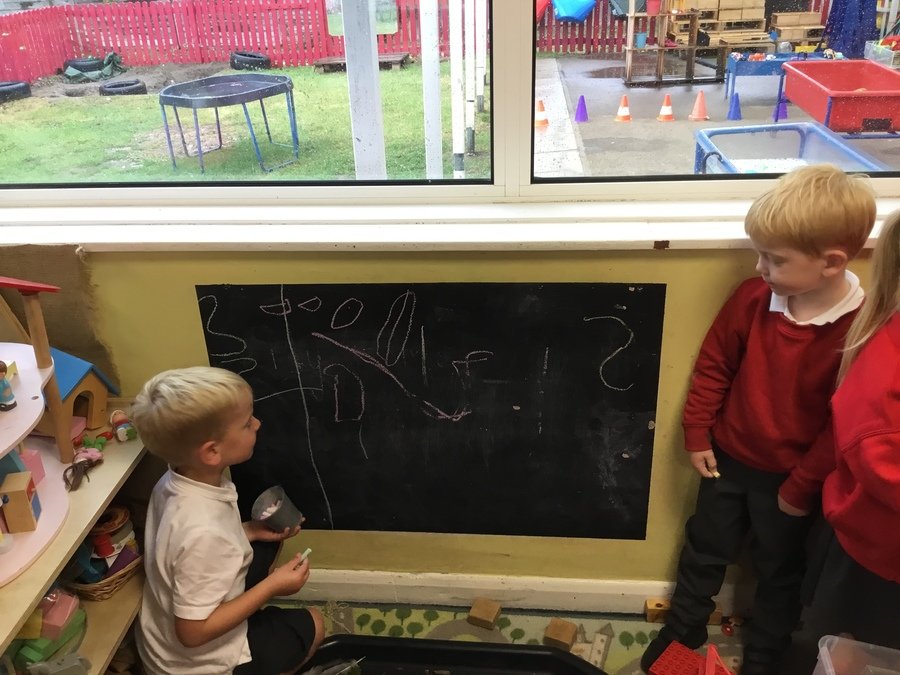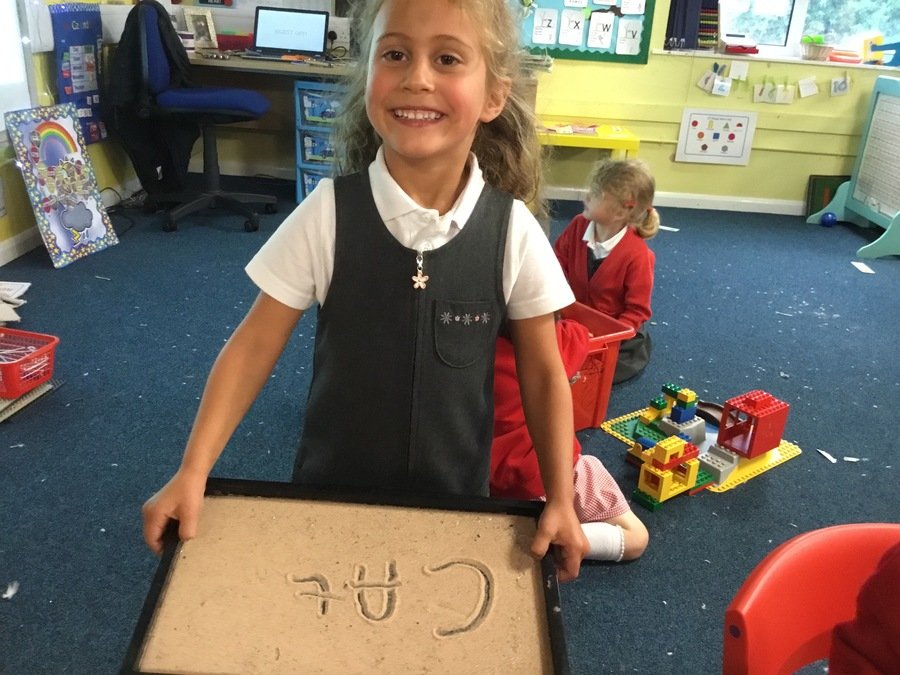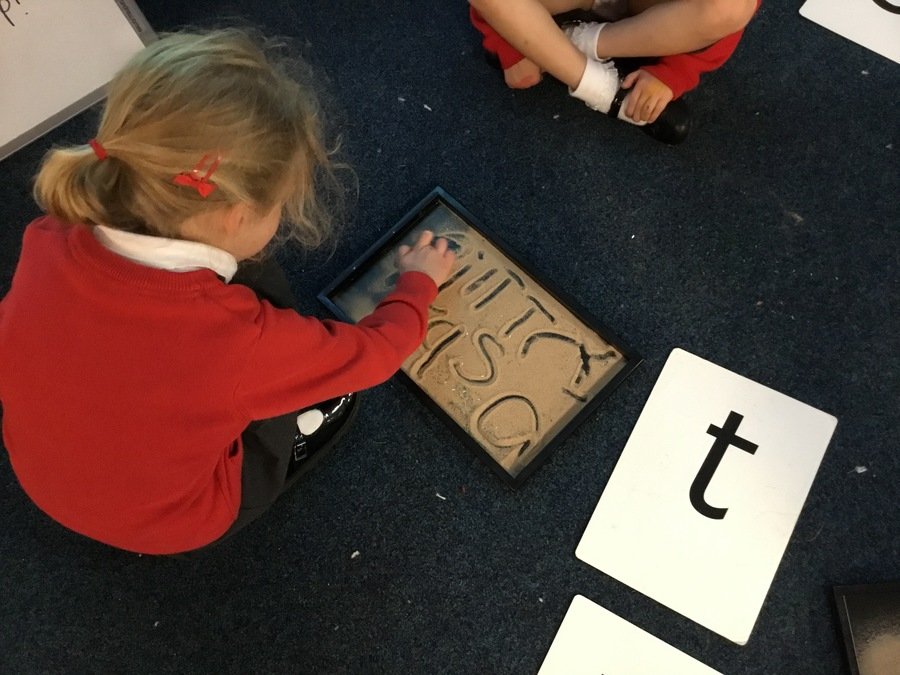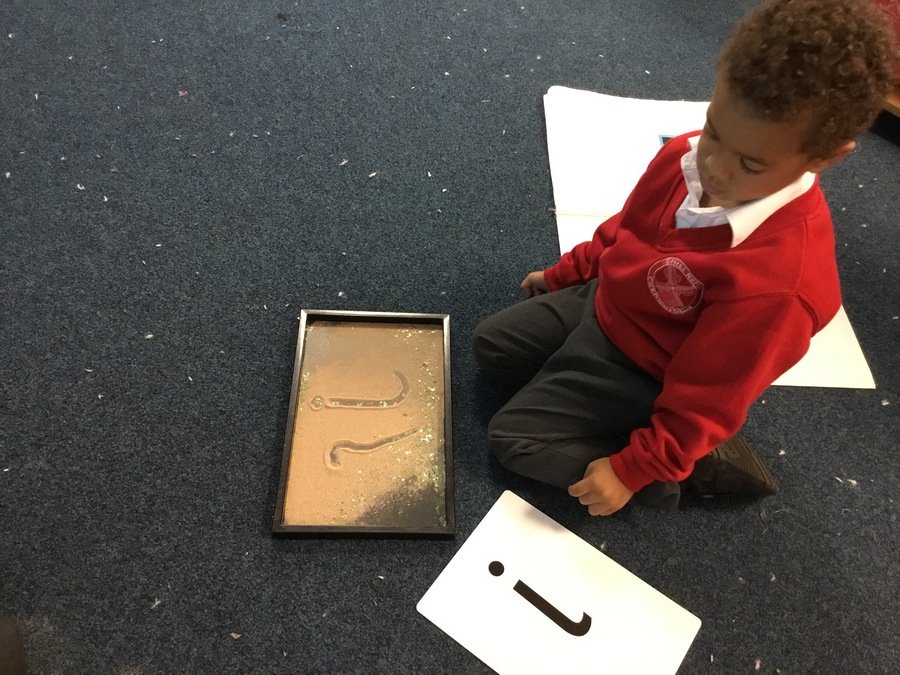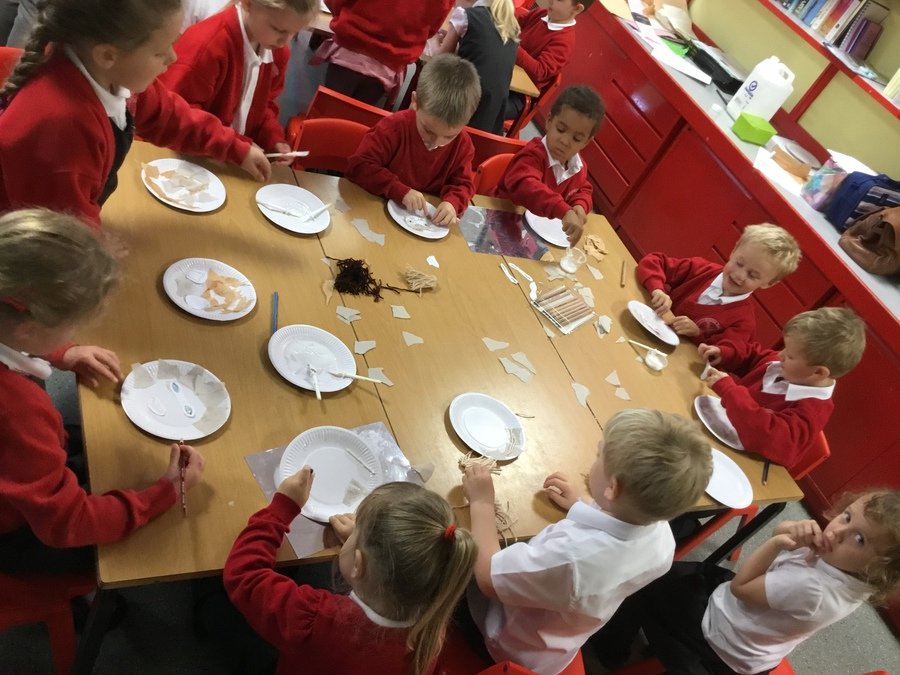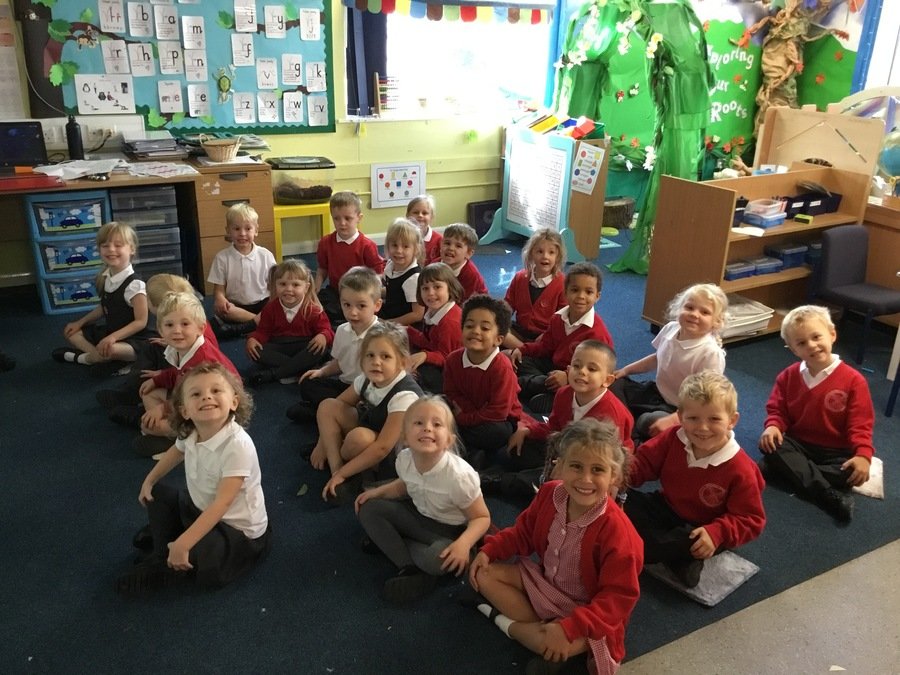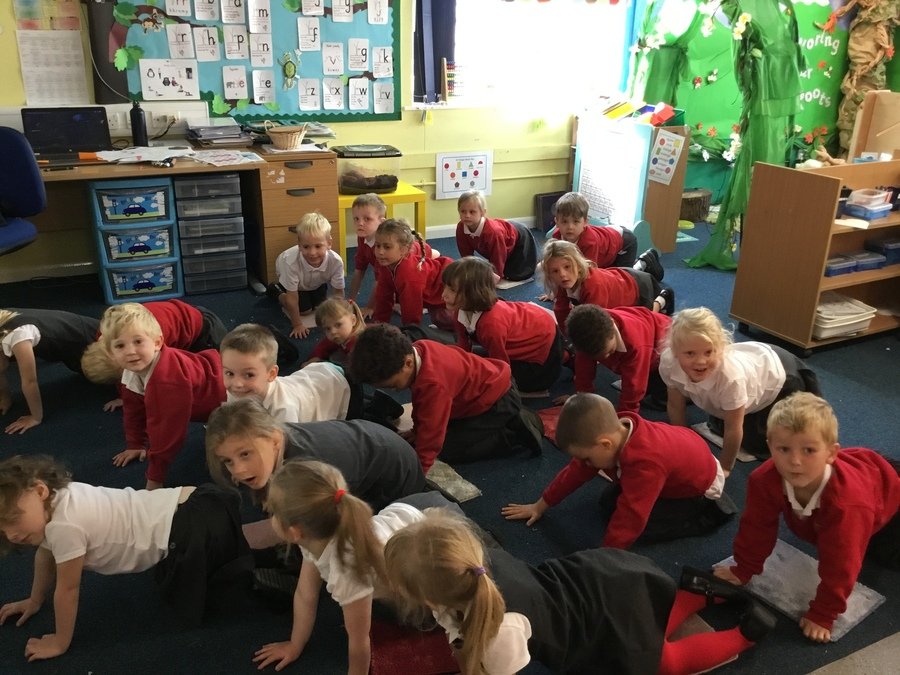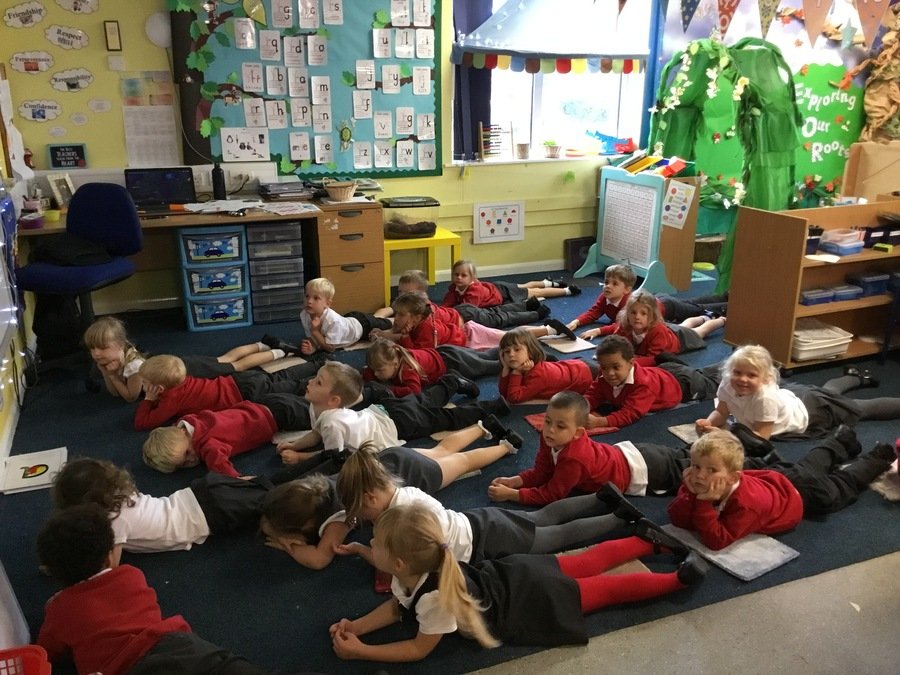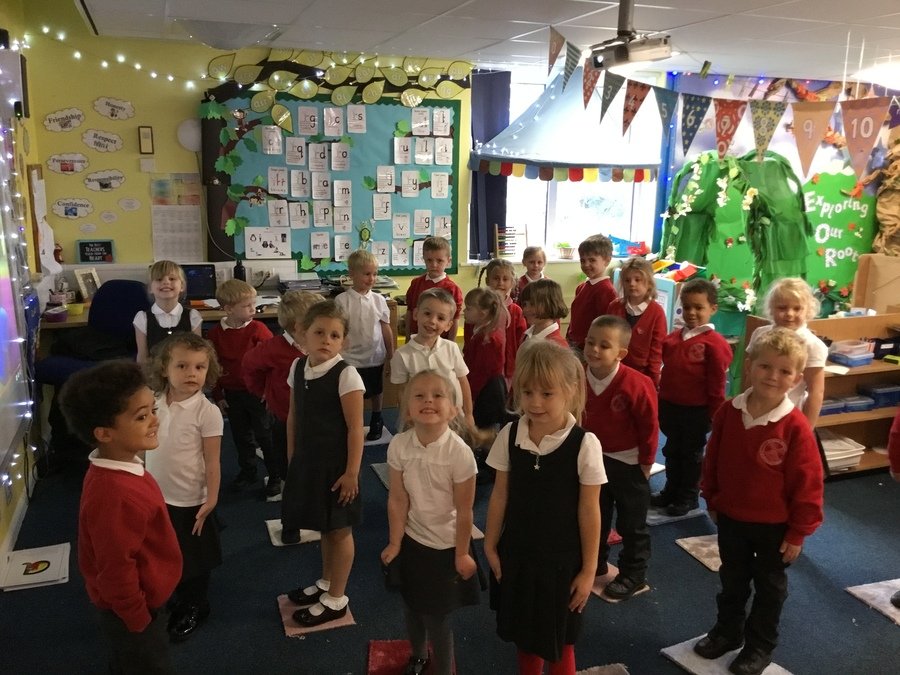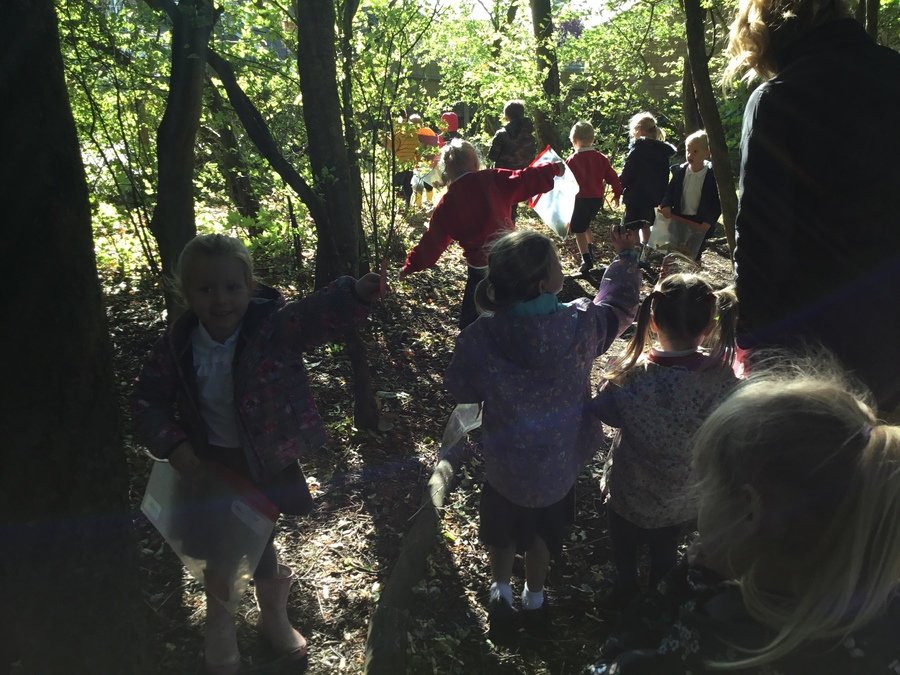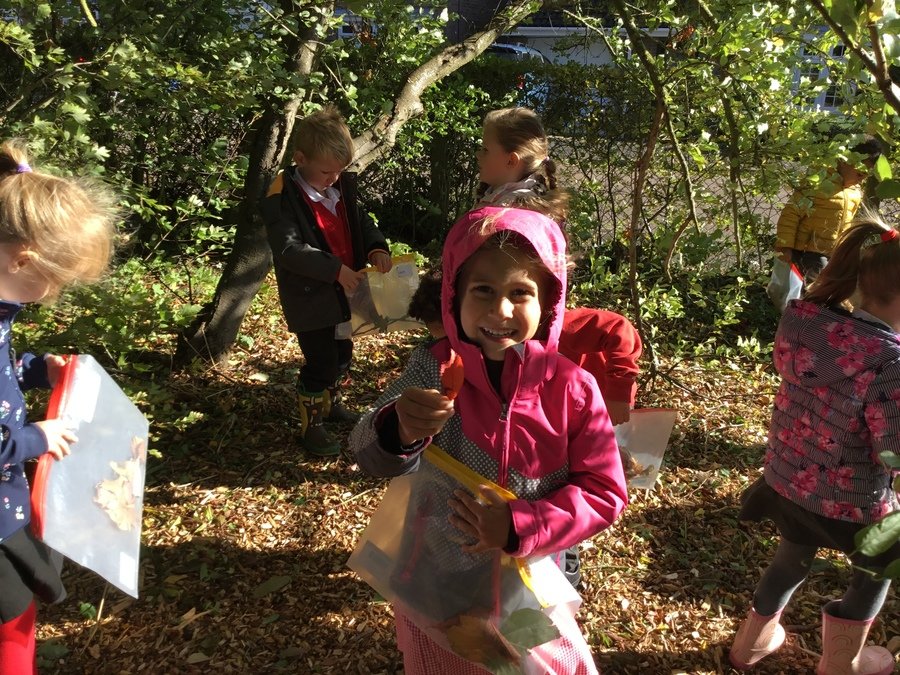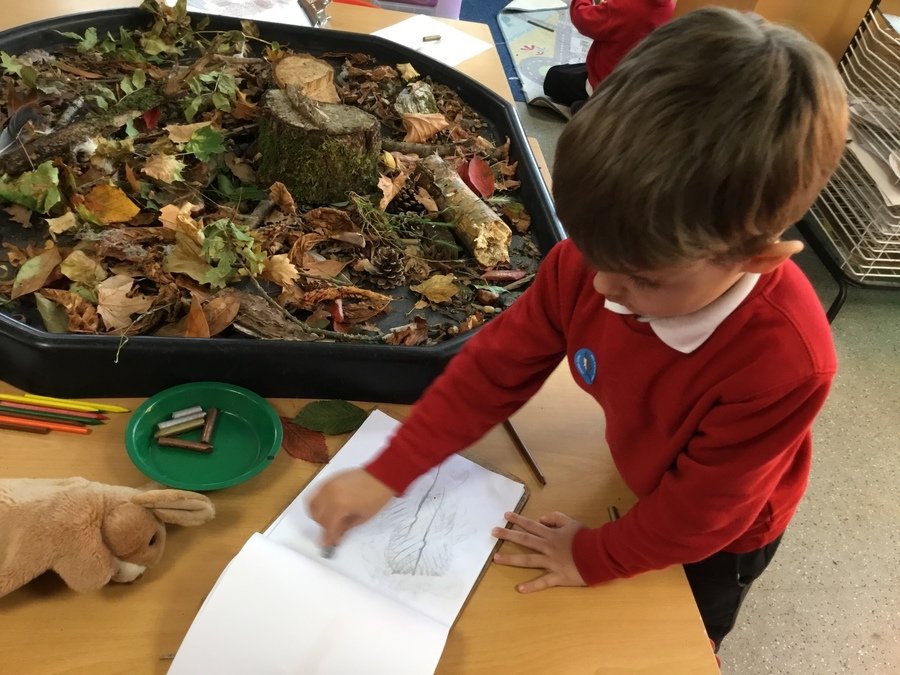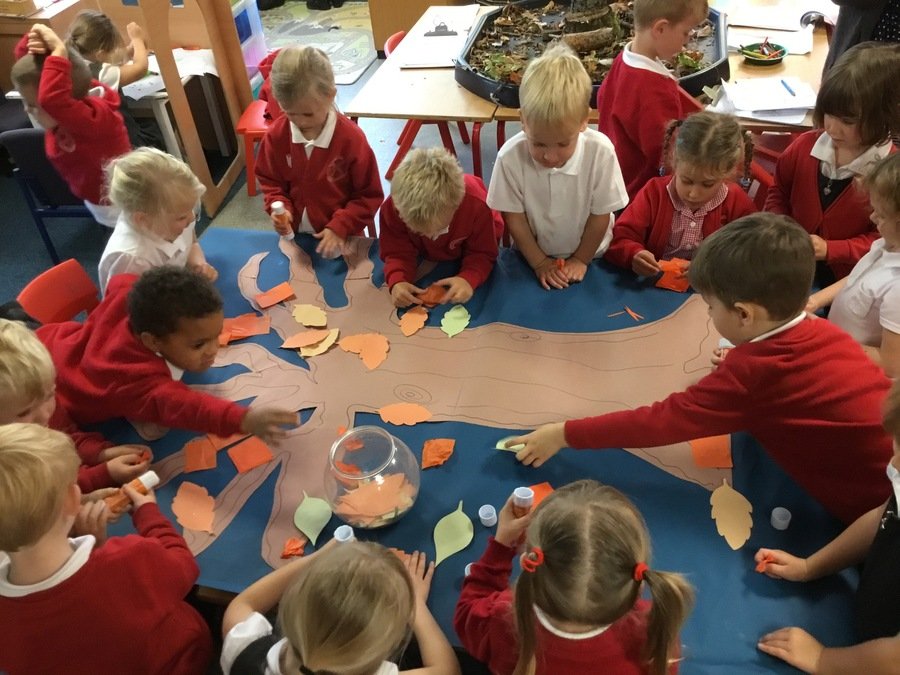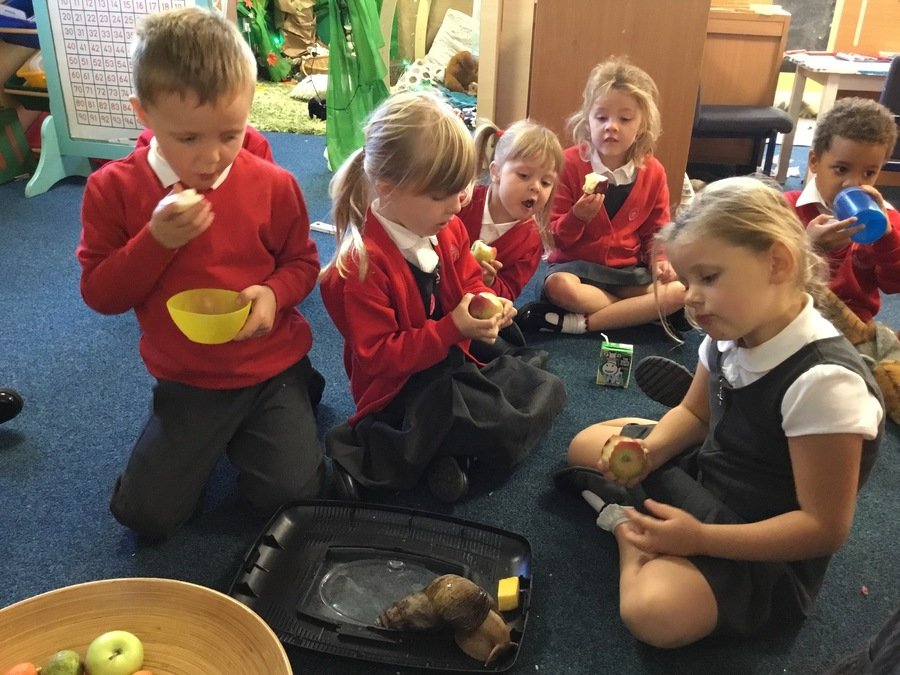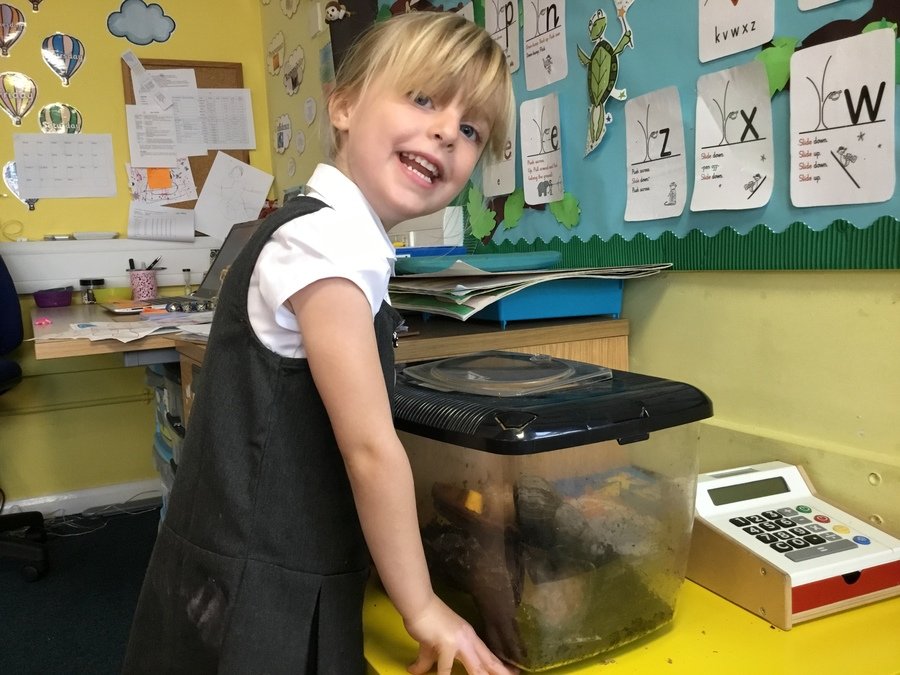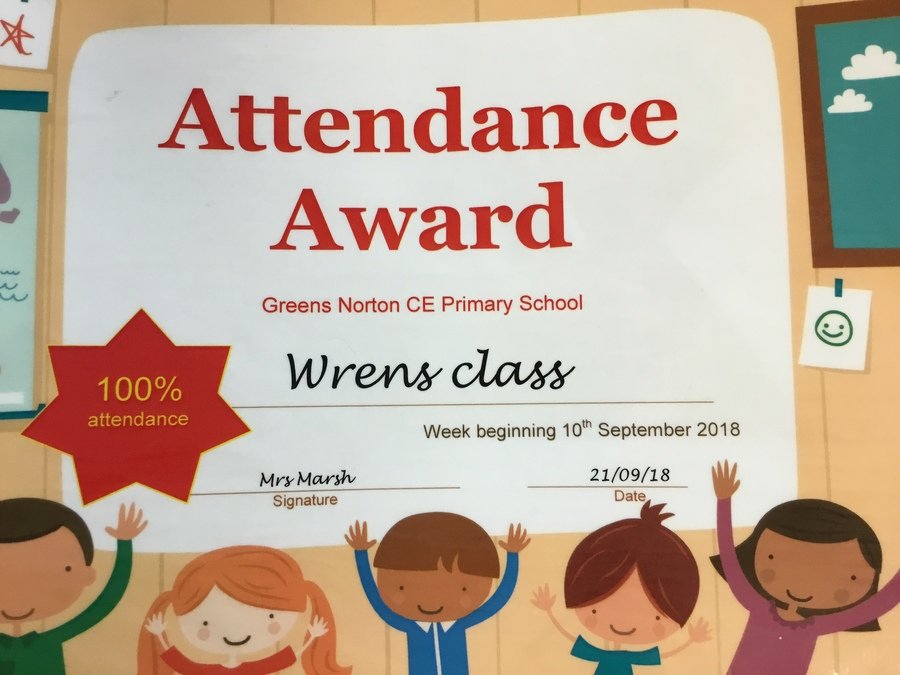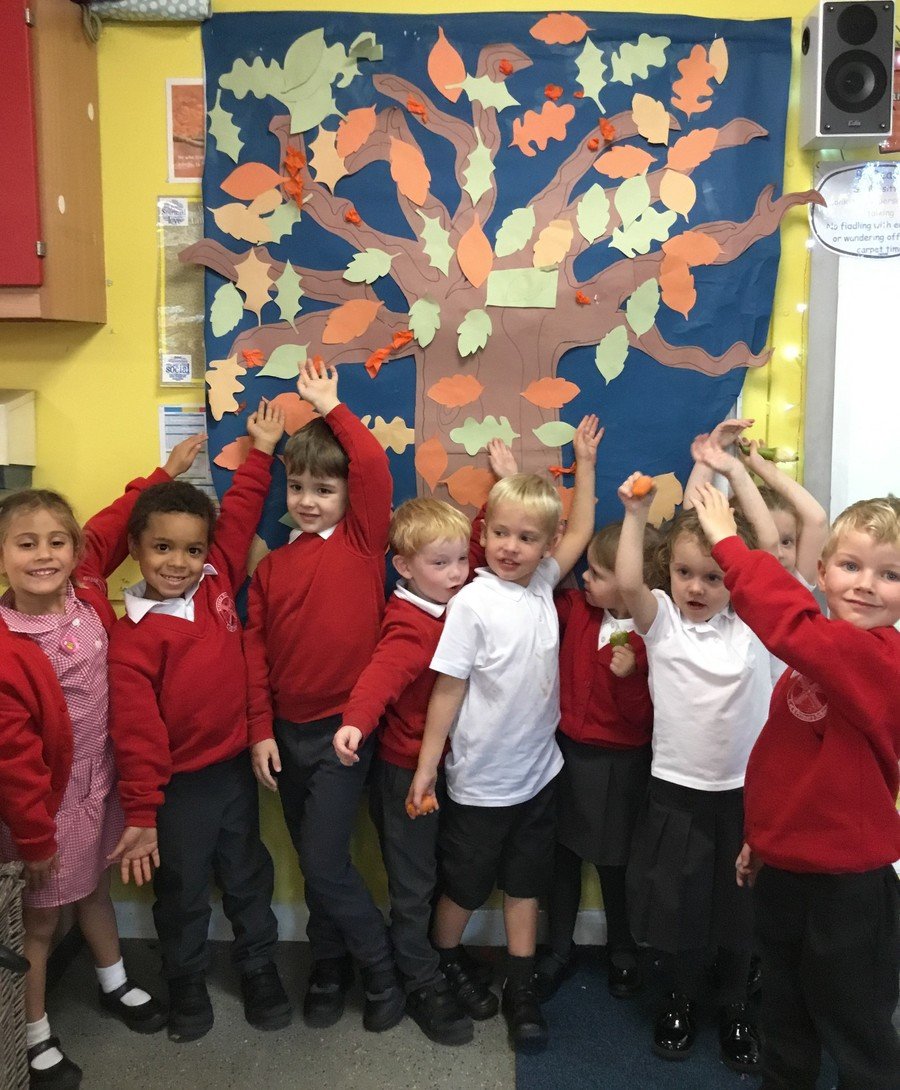 A huge welcome to our new Wrens!
Friday 14th September
What a fantastic first week! We couldn't have asked for a smoother transition for our lovely Wrens. They came in with so much confidence and have settled into school life extremely well. What has really touched our hearts is how kind and friendly the children have been towards each other and how well they have been playing together and sharing equipment. We've practised using our listening ears on the carpet during circle time and have been lining up like penguins to go into the hall for lunch. The lunchtime staff have been so impressed with how the children have queued for their lunch and sat down to eat.
To launch our topic about 'Ourselves' and our surroundings, the children have;
discussed the letters in their names and the sounds they make
decorated their initials
printed their names with foam letters
practised writing on the ground in chalk
drawn portraits of themselves and their families
acted out in the Home Corner and written shopping lists
dug in the mud pit and made cement to build houses
constructed walls and built a shop with the big building blocks outside
practised their balancing skills on stilts and scooters
used magnifying glasses to discover bugs in the soil
made delicious cakes in the mud corner and so much more!
We've been so impressed with the children's tidying too. They have really looked after their new classroom and equipment and have enjoyed seeing their names move up onto the rainbow, our class chart.
Next week, we'll be looking more at numeral recognition and counting to 10 and beyond so this is something you could practise at home together.
We're so proud of our Wrens and can't wait for another wonderful week.