Remembrance and more!
Fri 9th November 2018
This week the children have started to learn about persuasive text features within a formal letter. They have also been looking at times tables and multiplication, 3, 4, and 8s for year 3 and 6s, 7s and 9s for year 4.
During Topic the children worked in pairs to research an American State, during RE they looked at the Buddhist festival 'Vesak' and made some lanterns. In PE we worked collaboratively and played some traditional playground games in our houses. The children also got to experience the new running track!!!
A special mention to Ashley who is star of the week this week. Ashely wrote a beautiful poem about remembrance. Thank you to all parents/carers who came on Tuesday and Wednesday evening it was lovely to meet you all properly.
Spellings for Monday 'Shun' (sion) endings
This week...
Fri 2nd November 2018
Welcome back after the half term. This week we a have begun looking at multiplication and division, year 3s need to know their 3, 4 and 8 times tables and year 4 will need to know their 6, 7, 11 and 12 times tables! Practise has begun! We recapped some grammar during literacy lessons and focused on editing and improving our work.
In topic we went across the pond and started looking at The USA and it's 50 states, we have started to learn a song but there's lots to remember! During RE we had a look at some Buddhist symbols and found out the meaning. For remembrance the children wrote some lovely poems and created some poppies.
Star of the Week: Ethan! Ethan is a superstar, he is kind and helpful but is growing into such a thoughtful young man - well done!
Spellings for Monday
Happy Half Term!
Fri 19th October 2018
This week the children wrote a setting description, postcards from London and Paris and painted some Buddhist temples! We even squeezed in some time to create our own optical illusions and recap addition and subtraction.
Well done to Sophie who was Herons star of the week this week - Sadly Sophie is leaving us but I had to give her star of the week because she is so kind and helpful. Good Luck!
Have a fantastic half term and stay safe!
Spellings for Tues 29th (the suffix ly)
What a week!
Fri 12th October 2018
Wow! The children have been so busy this week: recording an album, performing a concert and trying out badminton.
As well as this, the children have been continuing some work on addition and subtraction and becoming familiar with a setting description as part of our Literacy work. In topic we looked at the flags, languages, currency and capital cities of different European cities - which the children seemed to enjoy!
Well done to Nathan who is Herons star of the week this week! Nathan has been trying really hard to push himself and extend his learning. Well done!
See spellings for Monday (The suffix tion)
A fantastic week!
Fri 5th October 2018

We have had such an exciting week this week!
In Maths we have begun to look at addition and subtraction using the column method to work out tricky equations. More active and collaborative learning took place on Monday where the children had to work in house teams to figure out some mathematical challenges!
In Literacy we read some more of Kensuke's Kingdom and went outside to create Michael's shelter!
I think the most exciting thing this week was POPUK! Herons got stuck in and learnt 7 songs with Curly Claire to sing and record on Wednesday!
A special mention to Ollie who received Star of the Week this week. Ollie has been working hard and setting a brilliant example to the rest of the class, well done!
Spellings - prefixes
Harvest in Herons
Fri 28th September 2018
During our Maths lessons we have almost finished our work on place value; Year 4 now know a lot about 4 digit numbers and Year 3 know loads about 3 digit numbers! In English we planned and wrote all about a place we designed; we had some fantastic ideas (Tarantula Town, Crystal City and Tropical City all sounded interesting!).
In the afternoons this week we have been learning about the eye for science, the city of Paris for french and the story of the Buddha in RE. We have also been practising our Little Red Hen Rap which some of you saw in church. Thank you for joining us and for your kind donations which I'm sure you may have assisted your children in gathering!
Have a fab weekend!
See OU spellings for Monday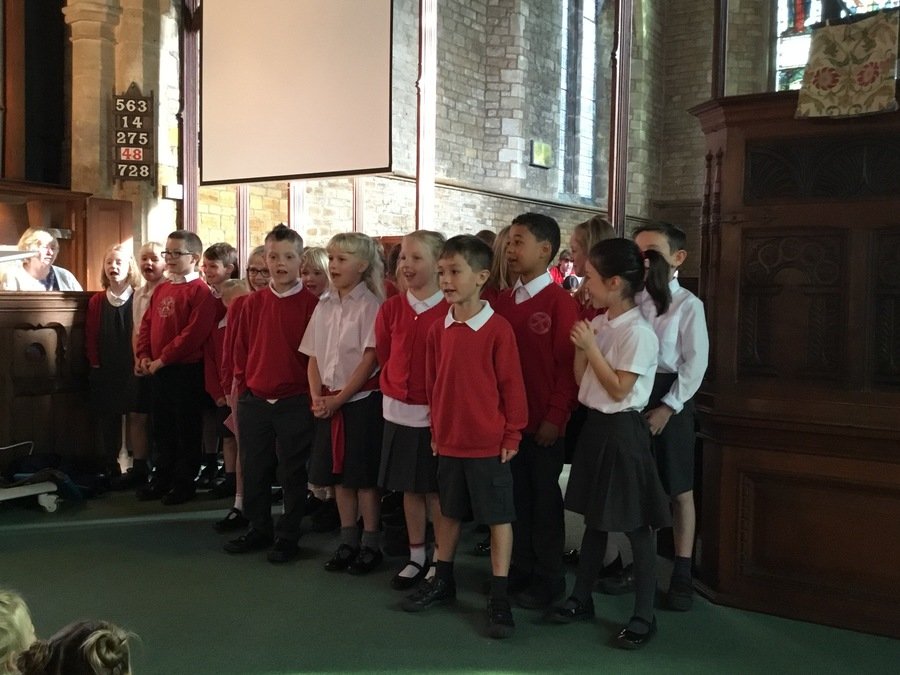 Our learning this week!
Fri 14th September 2018
In lessons this week we have been busy learning all about Roman Numerals, Explanation Texts and Light! We even had time for some artwork.
In Maths the year 3 children looked at the place value of 3 digit numbers and year 4 explored Roman Numerals! During English we have begun looking at an explanation text all about Towcester and have begun looking at the features.
In the afternoons we have been looking at light in science with Mrs Brickwood, as well as creating some 3D buildings inspired by the artist 'Hundertvasser'.
Well done to Edward who is our star of the week this week! Edward has proven how hard he can work in lessons now he is in KS2.
See below to download spellings for Monday.
Welcome back!
Fri 7th September 2018
Over the last 3 days the children have been introduced to a newly decorated classroom, a Geography based topic and have welcomed new friends.
We had a look at the different kinds of maps, and mapped out an area of the school in the style of an ordnance survey map. The children enjoyed working outside to draft out their ideas.
We had a look at drawing and shading and have begun to create some 3D shapes which we will use to make our very own European cityscape!
On top of this the children have been busy and concentrating on practising key spellings and making their own network hands (to help them feel safe at school).
Star of the week, spellings and homework will be given out next week - just a reminder that PE for our class is on Monday and Tuesday.
A week of hard work in Herons!
Fri 21st September 2018
In Maths this week we have been counting in multiples of 10s, 100s and even 1000s form any given number as well as ordering and comparing a group of numbers!
In English we have started writing our class explanation text all about Northampton, the children have worked really hard on this and I am pleased with all of their ideas! We have also just started designing our own towns and cities which the children loved! I look forward to seeing them write about these next week.
We have just stared to look at the continent of Europe as part of our Topic 'Earth Explorers!' and the children worked collaboratively to produce some epic posters.
A huge well done to Yoann who was star of the week this week! Yoann always shows me he is ready to learn and is such a enthusiastic member of the class.
Spellings for Monday (y for i)