That's That for SATs!
Fri 18th May 2018
Well we made it! Our year 6's made us very proud this week, as they tackled their SATs exams with calmness and determination! In fact, I think we actually began to enjoy the daily ritual of SATs breakfast (let's not mention how much chocolate spread we consumed!) extended break time after our tests and a little bit of revision in the afternoons!

Our year 5's also enjoyed their mornings immersed in their island projects and have produced some highly entertaining and creative results!

Of course the highlight of this week was our Friday Funday complete with shared picnic! The weather was kind to us and we had an extremely chilled day of sport and fun and wonderful food! Thankyou to all parents who helped contribute to such a wonderful picnic banquet!

Kestrel Star of the Week: Everybody! How could I choose this week with so many children making me proud? Clearly our year 6's have been super impressive but I also want to thank all of my wonderful year 5's for supporting their year 6 friends this term and happily taking part in all the extra grammar and maths sessions that we completed!
Final Push in Kestrel Class
Mon 7th May 2018
Kestrel class completed another week full of hard work and focus. Guided reading continued to focus on ensuring that we supported our answers with evidence from the text. We also played beat the clock as we practised our skimming and scanning skills! Our grammar lessons saw us revisiting modal verbs and sentence structures. We certainly feel much more secure on phrases and clauses and how to identify the main and subordinate clause in a sentence.
This week, however, felt like maths week! We learnt how to interpret a range of different graphs and charts including, bar, line and pie charts as well as investigating the mean average! We also revisited negative numbers and used number lines to help us find the difference in positive and negative numbers. We finished off by playing a game of air ships to re-enforce the affect that adding and subtracting negative and positive numbers have. We thought about positive numbers being puffs of air and negative numbers being sandbags!! We finished our week with an arithmetic focus! We have all worked so hard to improve our arithmetic skills and should feel proud of the progress we have made!
We were definitely ready for an extra long weekend after all of our hard work!
Kestrel Star of the Week: We took a moment to celebrate Jamie this week. Jamie has been working so hard over the last few months to get to grips with the year 6 curriculum. He has such a mature attitude to his studies and he is a real role model for other learners within our class! Well done Jamie! We are incredibly proud of your effort and achievements!
Grammar, Maths and Reading
Fri 27th April 2018
Well, as you will have guessed, this week has been firmly focused on helping our year 6's to prepare for the forthcoming SATs exams. A special mention must go to our year 5 Kestrels who have been so brilliant at fitting in at this particular time!
In grammar, we have been exploring all of the different uses of apostophes, as well as completing a full grammar revision paper. Most of us are starting to have a bit of confidence in our abilities now and we have been celebrating our successes!! In guided reading, we focused on how to answer those elusive 3 mark answer questions. We thought carefully about what we needed to include in order to gain as many marks as possible! In maths, we covered co-ordinates and translation. We applied our skills to some challenging problems but we have started to get to grips with this subject! We also held some arithmetic booster groups with several of us being the teacher to help our friends improve in areas that they find tricky!! Again we are seeing pleasing progress in our results.
We ended the week with a really exciting game of bench ball! A great way to let off steam and have some fun after a week of incredible hard work!!!
Special Mention must go to Alex this week who achieved his Decimal gold times table medal. A great achievement Alex- well done!
Kestrel Star of the Week: This week we took time to celebrate Archie! Archie is just a brilliant member of our class. He always works incredibly hard and has delivered great progress across all subjects. However, best of all, he is also a great friend and a kind and caring member of our class! Thank you for being you Archie!!
Perseverance in Kestrel Class
Fri 23rd March 2018
In literacy this week, we finished our science fiction stories. We have really excelled ourselves with our writing about the abandoned astronaut -agent Eleven. In grammar we were looking at the active and passive voice.
In maths we have been focusing on: reasoning and problem solving with area and perimeter; finding the volume of 3d shapes and we have even squeezed in some extra maths in the afternoons, looking at the properties of 2d shape!
We completed our water resistance investigation write up in science. We worked hard at ensuring that our conclusions really explained our results and included our scientific vocabulary.
On Thursday, we had great fun joining in with the whole schools sports relief activities. We boosted our learning appetite with running laps around the field. Then, in the afternoon, we completed our contribution to a wholeschool circuit training extravaganza of starjumps, step ups and press ups! Our arms were aching afterwards!!!
Kestrel Star of the week: We celebrated Frankie's achievements in writing this week. Frankie wrote an excellent and exciting sci-fi narrative. Well done Frankie - keep it up!!
Measure for Measure!
Fri 9th March 2018
In Literacy, we have started to write our science fiction narratives. So far we have completed our story maps and introductions. We worked really hard to peer assess our writing in order to drive improvements. The outcomes were really impressive, well done Kestrels!
In maths we have been looking at a range of measurements including length, mass and capacity. Remembering all the conversion rates proved critical! We applied our knowledge to complex worded problems and also focused on reading partially labelled scales - not easy.
As part of science topic, we learnt all about stars and investigated star constellations. We applied our emerging knowledge of ratio in order to scale some of these constellations up. We are looking forward to completing these next week.
In R.E. we were reflecting upon the last supper. We re-enacted this significant event and undertook a conscience alley activity.
Kestrel Star of the week: We celebrated the consitent hardwork of Nieve this week. Nieve is always striving to produce her best and she was truly deserving of her award today.
Hot Chocolate Friday: Quite a party this week, with some lovely nominations. We nominated people for a range of reasons including: being kind and supportive; cheering us up when we are a bit down; never complaining and helping me with my spellings. Well done to all of our kind and caring Kestrels!!!!!
A Great Start For Kestrel class
Fri 23rd February 2018
In literacy this week we have started to explore a new genre - Science Fiction. So far we have read some Science Fiction stories, watched some short Science Fiction films in order to understand the key features of this genre!
In Maths, we have been continuing to work on percentages! Hopefully this will help us when shopping in the sales!!!
Our afternoons this week, have been themed around protective behaviours. We have been learning that we all have a right to feel safe; That we all have a different opinion on what feels safe; How to recognise our personal early warning signs, that let us know that we feel uncomfortable and finally who can help us if we feel unsafe.
Hot chocolate Friday was an elite club this week. However, well done to those children who have been consistently supportive of their friends.
Kestrel Star of the Week: This week we celebrated Archie's achievements in maths. Archie has really mastered percentages this week and has been pushing himself to complete some incredibly challenging work. Well done Archie!!
A Top Week in Kestrel Class
Fri 2nd February 2018
In literacy we have been writing our biographies about Tim Peake. We have made sure that we have included: expanded noun phrases for clarification, prepositional phrases and relative clauses.
In maths we have continued to have fun with fractions. This week we have been finding fractions of amounts. We have found fractions of shape and fractions of number.
In science we completed our Top Trump cards. Games commence next week! We also compiled facts about our solar system for our class book. In the process, we honed our formatting skills when using "Word" software.
Thsi week some of us were nominated by our friends to take part in "Hot Chocolate Friday." Kestrels had nominated children who they had noticed being extra kind and supportive. These children got to enjoy a hot chocolate this lunchtime and there were even some marshmallows this time. How nice it is to know that we have thoughtful and caring children in our class!
Kestrel Star of the week: Joel was our star this week. Joel is always working hard and doing his best. He is a great friend to everyone and we were pleased to celebrate with him this week. Well
A Monster Week
Fri 19th January 2018
In literacy this week we started to practise how to write a biography, whist making sure that we include all of the important technical features. Expanded noun phrases in this genre need to add detail for clarification rather than descriptive language which we had been using in our narrative genres. Nothing is ever simple is it?
In maths we remained immersed in the world of fractions.This week we were adding and subtracting fractions with the same and different denominators. We even calculated with mixed numbers. Our end of week investigation resulted in us having to build a monster out of cubes. Each cube represented a different fraction and our monster had to have a total value of 15 and a half!! Some of us achieved this but we all worked extremely hard trying to solve this tricky problem.
In science, we learnt all about what makes day and night and how we get seasons! We were developing our explanation skills as we tried to clearly explain these difficult concepts.
In P.E. we started circuit training and have established our starting positions for a range of athletic events. We are hoping that we can improve our personal best scores as the weeks progress.
Kestrel Star of the week: Alice was our star this week as she has worked really hard to master the skill of adding and subtracting fractions. This was not something we found easy, so well done Alice for persevering!! keep up the good work.
From assessments to DT!
Fri 15th December 2017
After a delayed start this week, we dived straight into a range of assessments in maths, reading and grammar. Howveer, we knuckled down and got these all completed in just two days! Phew!
We finally completed our Roads End narratives this week. We hard to make links between our conclusions and our introductions.
Our main focus this week has been our design technology project. We have been learning all about the mechanisms involved in cam based toys. We created different shaped cams and drew a profile graph to show the movement that would be produced by these cams. We designed our "Go With The Flow" themed cam toys and we have started to build them.
Kestrel Star of the week: Special mention to James this week, who performed extrmemelywell in his assessments. James's hard work and determination throughout this term has paid off and we are very proud of his achievements. Well done James.
And so into December!
Sat 2nd December 2017
We have continued to build our skills in narrative writing this week. We explored writing different styles of introduction using D.A.D. (Description, Action, Dialogue). We also looked at how sheep can help us remember key rules when it comes to writing dialogue! (Not a typo -ask your child!!)
In maths, we have continued to develop our skills with division. We have looked more closely at those tricky questions that involve us making decisions about what to do with remainders. We have also been applying our division skills to reasoning problems. We ended the week reviewing key mental maths strategies to help us improve our performance in our calculation assessments.
A large focus of the afternoons this week has been rehearsing for our cluster carol concert. We joined with the Kingfishers to learn four christmas songs, including one which required us to sing in a round. A bit more practise needed but a great effort has been made by everyone.
Kestrel Star of the week: Congratulations to Erin this week! What a journey Erin has been on with her division skills. Erin has shown great perseverance as she has learned to master this skill. Keep going Erin!!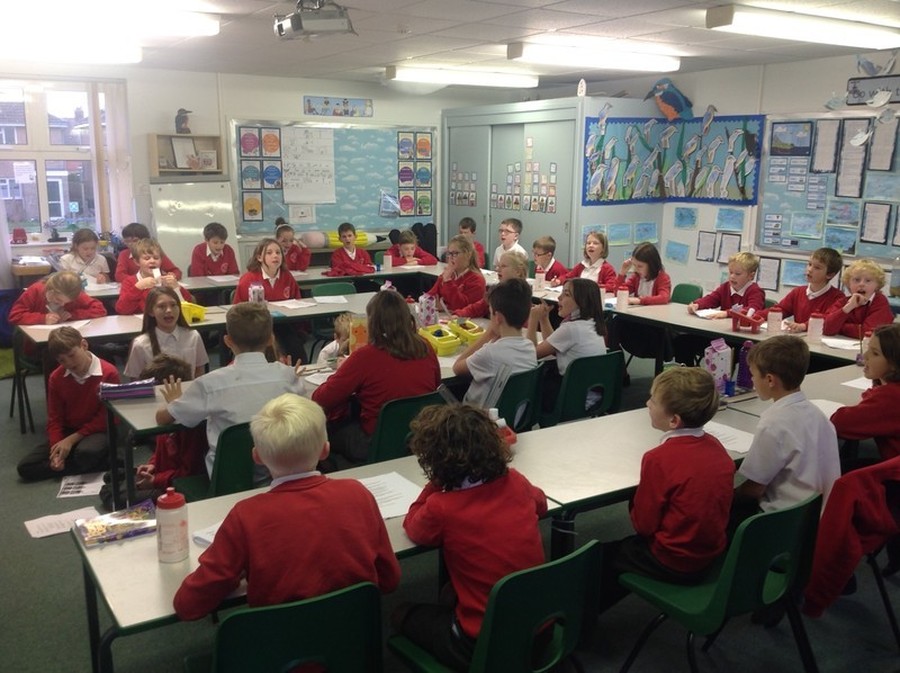 A successful Week in Kestrel Class
Fri 17th November 2017
We had another full week in Kestrel class!
In literacy we completed our setting descriptions. We worked with our classmates to improve our writing and make sure we were meeting our learning objective. In maths we moved onto short division with and without remainders. Some of us looked at expressing our remainders as a decimal number.
In Geography, we found out more about the workings of hydro-electic dams. We reviewed the pro's and con's of this sustainable power source and wrote speeches to convince each other of our point of view - it got quite heated!!!
In Science we started our investigation on living processes and we now have monitoring stations around the classroom!
This week was anti-bullying week. We reflected on this and wrote diary entries in the role of a bully in order that we may better understand some of the reasons behind this difficult situation. We also squeezed in an R.E. assessment!!!
The week ended with us completing our class collage using all of the coins kindly donated to us for Children In Need! Take a look at our two designs!
Kestrel Star of the Week: Well done to Alex for his excellent setting description. He worked extremely hard to produce a quality piece of writing.
Special Mention: We were all super proud of James this week, as he achieved his Gold Award for decimal facts. James received his Gold medal in celebration assembly. This is only the second time in three years that this award has been achieved. Congratulations James - you did it!
Back
Great Week for Kestrel Class
Sun 5th November 2017
We had a great start back after half term in Kestrel Class.
In literacy we've started to look at setting descriptions. We have explored different ways to add detail and variety to our writing. We have learnt about different sentence structures and how to identify and use a relative clause.
In maths we have started to look at formal methods of multiplication. We started by developing our mental strategies to help us use known multiplication facts when multiplying large or decimal numbers (See Pictures of us amassing multiple scores and calculating totals). We then looked at the formal compact method for short and long multiplication.
In Topic we learnt about the different ways our rivers can be polluted and the effect that this can have on local wildlife and the environment. We wrote speeches and letters to the local waterboard to persuade them to take action against the key causes of this pollution.
Kestrel Star of the Week: Our star this week was Andrew. Andrew showed such a great understanding of the formal methods of multiplication that he was able to support his peers so that they too became more confident. If you can explain your maths this ensures a deeper level of understanding. Well done Andrew you were a real star this week!
A Full Week in Kestrel Class
Mon 16th October 2017
This week was a full week of assessments! We all survived and, more importantly, now have a clear idea of what to expect from formal assessments. The more you practise the less intimidating these things become. Some of us were even disappointed when the tests were over!!!!!
There was still plenty of learning taking place;
This week in maths, as well as developing our subtraction skills, we have been working on our reasoning skills by solving problems together.
In literacy we have been creating mindmaps to help us generate ideas for our poems about the stages of a river. We were thinking about powerful adjectives and verbs as well as figurative language.
Kestrel Star of the week: This week it was Nieve's work that we were celebrating. Nieve completed some excellent problem solving work in maths this week. She had considered the best way to tackle her problems and had used the inverse to confirm her answers were correct! Well done Nieve.
The busy week did not end there for some of us! A special thank you must go to James, Archie, Ellen and Josie who represented the class so well at our church communion service on Sunday. Lots of the congregation spoke to me at the end of the service to say how well the children had read. Well done to all of you - you made me and Mrs Marsh extremely proud!
A Marvelous Middle for Kestrel Class
Fri 29th September 2017
Our marvelous middle for our current topic 'Go With The Flow' was a trip to Barnwell Country Park. Kestrel class were river detectives for the day and we carried out a range of observations and tests on the River Nene!
We tested for water cleanliness by checking for the presence of organisms. We tested whether the water was acid, alkaline or neutral using litmus paper and a ph scale. We also calculated river flow and used compasses to work out the direction of flow. We learnt about the local vegetation and even discovered how dangerous some of the plant life can be!!!
Overall this was a fantastic field trip and it really helped us develop our knowledge about this body of water.
Kestrel Star of the Week: This week we celebrated Amelia's work in geography. Amelia produced an excellent report on the observations and tests that we carried out on our field trip.
Stunning Start In Kestrel Class
Fri 8th September 2017
To start our week, we learnt about scumbling and blending with oil pastels and created some wonderful water droplets. In maths we have been learning about place value. We made decimal flowers to show our understanding of the value of each digit of our decimal numbers!